The Notable History of Our 1927 LaSalle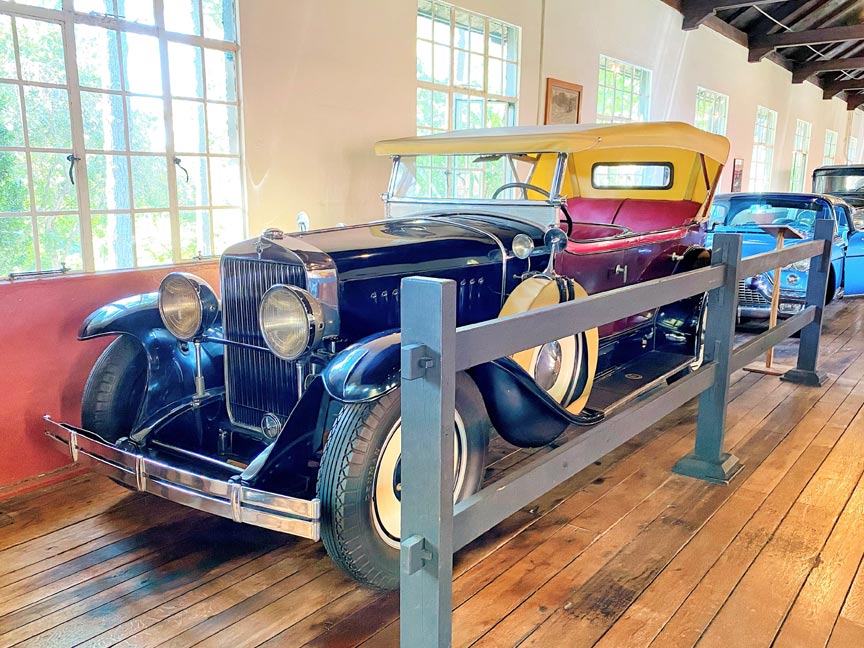 Buckle up, friends. We are taking a deep dive into the history of one of our most cherished cars in the Estes-Winn Antique Car Museum: the 1927 LaSalle. According to the bill of sale, this luxury vehicle – a companion car to Cadillac – was sold to Harry Blomberg (our museum founder) on March 3, 1964, by John H. Lange III (1915-1999). The car had originally belonged to Lange's father, who had passed away five years earlier. But here's the twist. It turns out that Lange didn't even know about the car's existence until it was discovered in a hotel basement in downtown Asheville, shortly before it was to be demolished.
Our museum docent Heath Towson, also the founder of Mountaineer Motor Tours, gives a detailed backstory on our LaSalle below. Heath is well-steeped in Asheville's automotive history and does a great job of bringing the history of our LaSalle to life. So keep scrolling to learn more!
Our 1927 LaSalle Touring Car History
By Heath Towson
Asheville in the 1920s – what a time to be alive! Imagine seeing the city at night, listening to Sidney Bechet's soprano saxophone melodies wailing out of the luxurious hotels lining Pack Square. Standing in the center of the square, below the Vance monument, you would have seen people hurrying from one building to the next, dodging the whirring electric street cars and the large, brightly colored automobiles of the period rumbling by.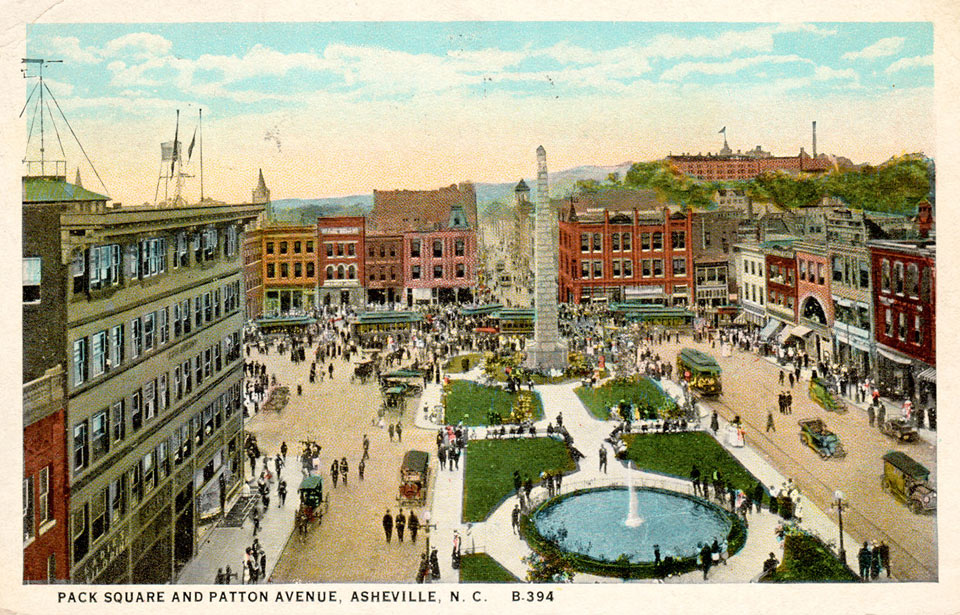 Asheville itself was designed to be a magnet for the rich and famous, as well as their fine automobiles. The city boasted some of the finest roads and scenic tourist routes for visitors to enjoy when they came to town. Beginning in 1899, with the founding of the Buncombe County Good Roads Association, Asheville had more paved roads than many cities its size and larger. Towards the late 1920s, Asheville had dealers from some of the finest car marques of the time, such as Auburn, Oakland-Pontiac, Franklin, Cadillac-LaSalle, Essex-Hudson, and Studebaker.
In 1927, Cadillac launched a new marque called "LaSalle," which was intended to be more affordable than the top-of-the-range Cadillacs. The LaSalle was marketed as being sportier than most of the larger touring cars and had features that were uncommon among other cars of the time, such as a special compartment for golf clubs, a gas gauge, cigar lighter, and a V8 engine. This was not the first American V8, as Chevrolet had beaten Cadillac/LaSalle to the punch in 1917. However, the LaSalle was much more luxurious and powerful than the majority of its peers and was bought by celebrities and successful business owners of the time. It was designed by famed GM designer, Harley Earl.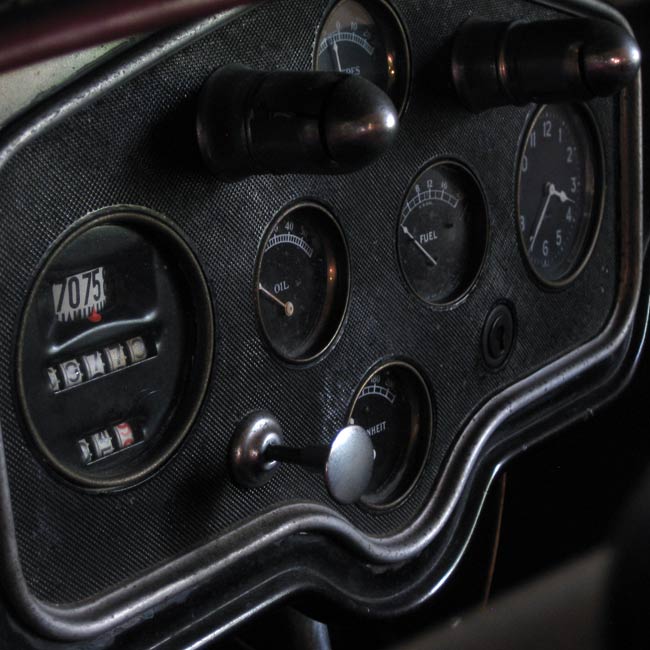 The 1927 LaSalle Phaeton housed in the Estes-Winn Antique Car Museum has an interesting history that would equal or rival many other historic vehicles of this period. This particular LaSalle was owned by John Hudson Lange II (1886-1959) of Asheville, North Carolina. Lange was the son of John Lange the First (1868-1924), a wealthy real estate developer as well as a car dealer owner. Lange Sr. developed the famous Langren Hotel, at the corner of Biltmore and College Avenues in 1912, with his business partner, Gay Green (1870-1951). He also owned the Glen Rock Hotel, located on Depot Street in what is now the River Arts District. Lange purchased the Glen Rock in 1901 when it was a large wood frame building. It was eventually torn down after the building fell into disrepair and later reconstructed as a fireproof building. The Glen Rock building still exists today on Depot Street and was redeveloped into affordable housing apartments.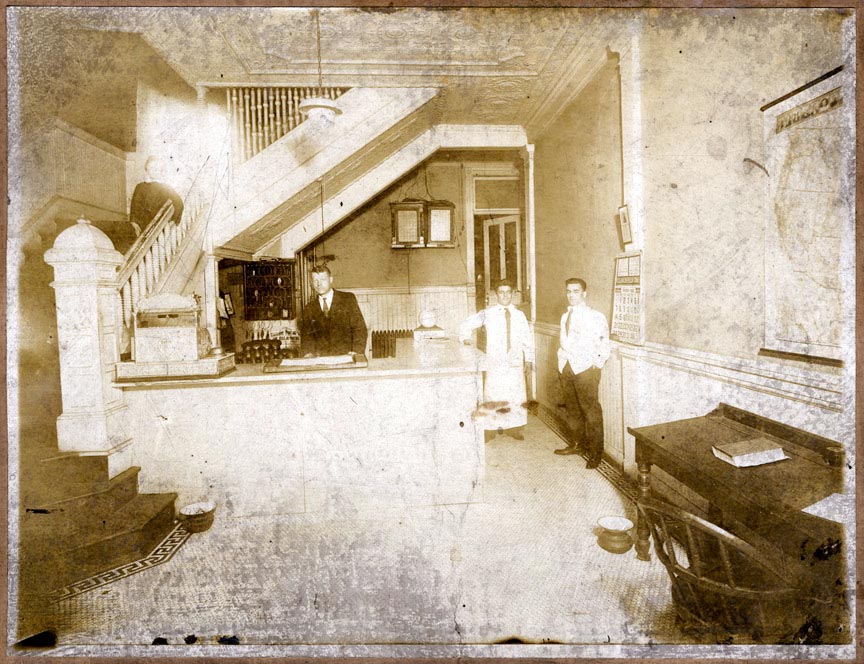 The Langren was heralded at the time as one of the only completely fireproof hotels in Asheville and featured a lavish rooftop garden. It was built during a hotel building boom, as tourism in the city was rapidly growing. The famous Grove Park Inn was completed just a year later, on July 12, 1913. At this time, Asheville was working to shed the image of being a convalescence for Tuberculosis patients and become known as a world-class, luxury resort town. Lange II, who owned the LaSalle in our museum, would go on to manage the Langren and Glen Rock Hotels, as well as his father's voluminous estate, for many years after his death.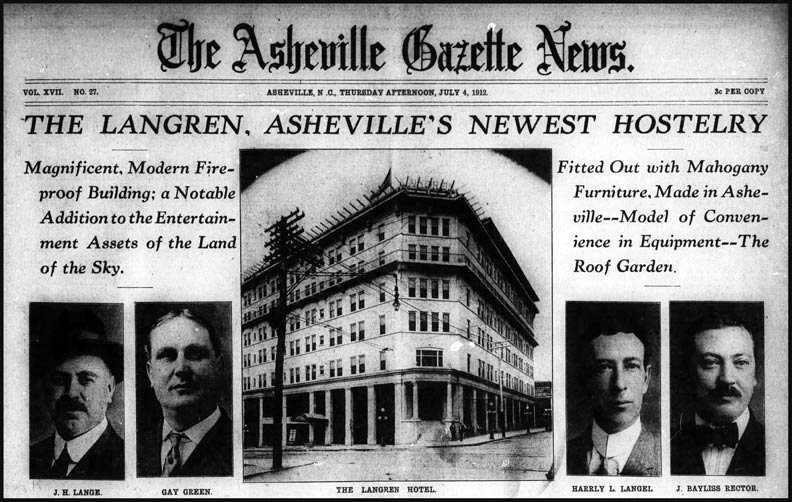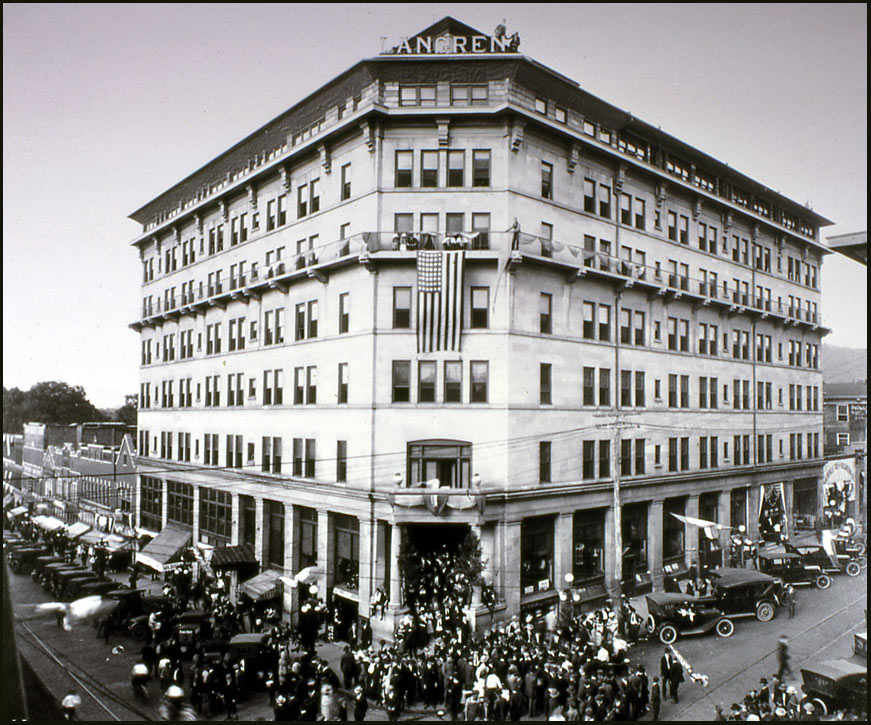 Lange Sr. opened what is believed to be the first Cadillac-LaSalle franchise in Asheville, The Western Carolina Auto Company, at 12-16 East College Street. The Western Carolina Auto Company was started in 1909 by selling Cadillac, Hupmobile, Oakland (predecessor to Pontiac), and Mack Trucks. In 1919, Lange would add on more brands and begin selling Rauch-Lang Electric Cars, Federal Trucks, and Indian Motorcycles. The Western Carolina Automotive building still exists today and houses the Van Winkle Law Firm.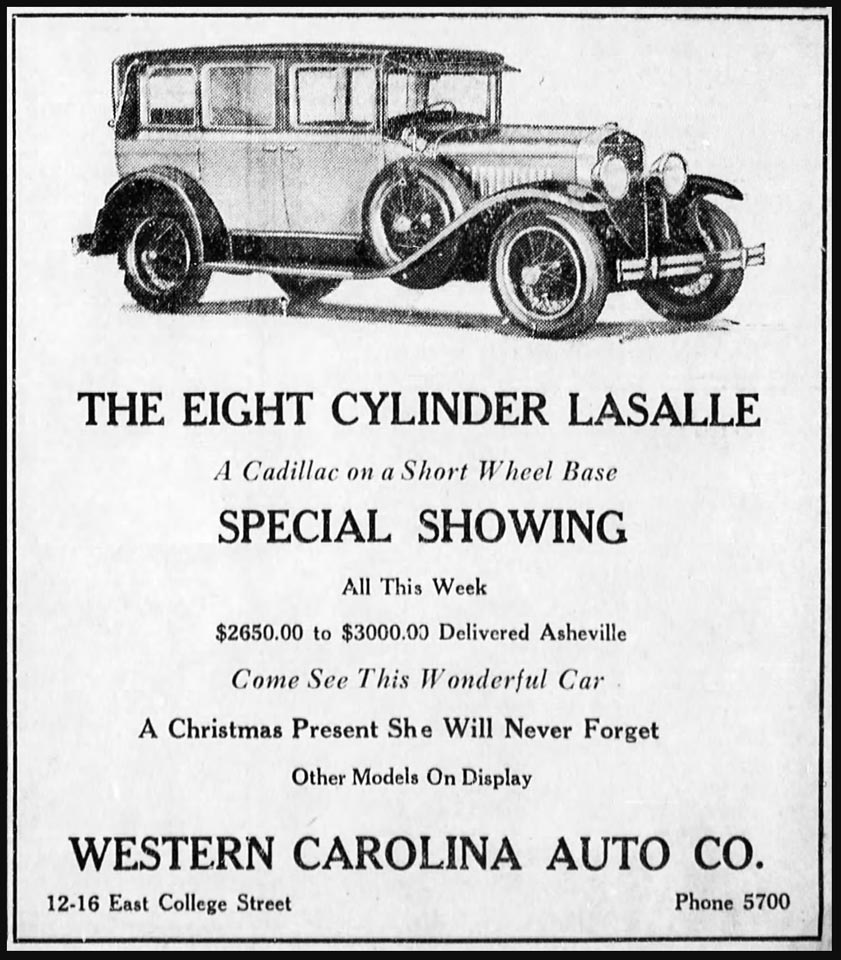 Lange Sr. lived in the impressive estate, Witchwood, in North Asheville that he purchased in 1922. Witchwood was a beautiful sprawling estate off Merrimon Avenue on the northeast corner of East Street (now Mt. Clare Avenue) and Hillside Street. It was built in 1888 by Union Col. Charles W. Woolsey, who would pass away at Witchwood in 1907. Witchwood was built to entertain many guests and host lavish functions, of which Woolsey hosted many.
The home would have been constructed at the height of the Gilded Age when the Vanderbilts and their many homes were coming to the fore. The name Witchwood came from the heavily shingled house with its steeply pitched roofs, one of which especially resembled a Witch's hat. Witchwood had many unique features, like a secret trap door leading from Woolsey's study to an expansive wine cellar. Behind this stately home, Woolsey had several show-quality horses housed in a stable, which was later converted into garages. We imagine our LaSalle parked in the former stables, where it would no doubt have fit the image of a wealthy estate owner.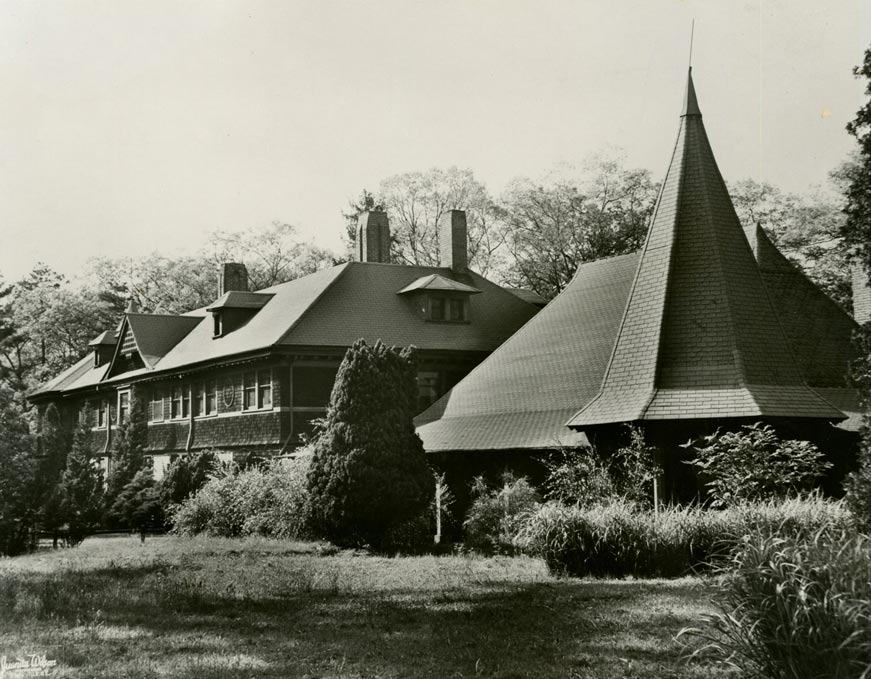 Lange Sr. died in 1924, leaving many assets to his wife and son, John Jr. The Lange family eventually sold off the LaSalle Franchise to the Thomas Company, forming Thomas Cadillac in 1930, in the same building. Thomas Cadillac would go on to be the leading Cadillac franchise in Asheville, until 1938, when Harry Blomberg obtained a Cadillac and LaSalle franchise, building one of the most well-known and long-lasting businesses in Asheville, Harry's Cadillac and Pontiac Co.
Lange Jr. continued to live at Witchwood, until his mother's death on January 6, 1954. Strangely, her will stipulated that the property be sold, and the proceeds applied to renovating the Langren Hotel. Lange Jr. considered buying the property for himself and his wife, the former Hilda Vonau of New Orleans, but at that time, he was in poor health and decided against purchasing it. His son, John III, by his first marriage, lived with his grandmother at Witchwood, until the time of her death. The property was purchased by Fred and David Pearlman, who planned to develop a $400,000 subdivision on the grounds of the property. Sadly, Witchwood was demolished in 1959. Although the Lange's estate did not live on, their 1927 LaSalle would get a chance at a second act.
Lange's LaSalle Phaeton touring car was ordered directly from the factory and arrived in Asheville on May 9th, 1927. It would have retailed for around $2,650 when a Ford Model T retailed for $369. It sported optional solid disc wheels, a $150 optional upgrade over wood spoke or wire wheels. The total number of LaSalles produced from 1927-1928 was 26,804 automobiles in many different body styles. There were only 1,575 Phaetons produced during 1927-1928. LaSalles were sold internationally and would be shipped in one of two ways: a fully assembled chassis and running gear would be assembled and shipped to the foreign country, where a body would be custom-built for the car by a coach maker. Some cars were fully built in America and then shipped as well, depending on the customer's tastes and budget.
1927-28 LaSalle Chassis Sent Around the World
| Location | Quantity |
| --- | --- |
| Alexandria, Egypt | 3 |
| Antwerp, Belgium | 8 |
| Berlin, Germany | 15 |
| Boston, Massachusetts | 1 |
| Buenos Aires, Argentina | 3 (right-hand drive) |
| Buffalo, New York | 2 |
| Chicago, Illinois | 1 |
| Copenhagen, Denmark | 3 |
| Factory, Detroit | 12 |
| London, England | 11 (right-hand drive) |
| Newark, New Jersey | 1 |
| New York City, New York | 1 |
| Oshawa, Canada | 1 |
| Paris, France | 20 |
| Stockholm, Sweden | 1 |
| Utica, New York | 2 |
| Washington, D.C. | 4 |
Completed 1927-28 LaSalle Cars Sent Outside the U.S.
| Location | Quantity |
| --- | --- |
| Berlin, Germany | 252 |
| Antwerp, Belgium | 205 |
| Paris, France | 128 |
| Buenos Aires, Argentina | 122 |
| Alexandria, Egypt | 118 |
| Madrid, Spain | 109 |
| Copenhagen, Denmark | 96 |
| London, England | 91 |
| Stockholm, Sweden | 69 |
| Honolulu, Territory of Hawaii | 67 |
| Port Elizabeth, South Africa | 67 |
| São Paulo, Brazil | 58 |
| Sydney, Australia | 55 |
| San Juan, Puerto Rico | 51 |
| Mexico City, Mexico | 49 |
| Batavia, Java | 48 |
| Manila, Philippine Islands | 44 |
| Osaka, Japan | 41 |
| Barranquilla, Columbia | 39 |
| Havana, Cuba | 39 |
| Melbourne, Australia | 38 |
| Caracas, Venezuela | 25 |
| Adelaide, Australia | 22 |
| Brisbane, Australia | 15 |
| Santo Domingo, Dominican Republic | 12 |
| Wellington, New Zealand | 12 |
| Montevideo, Uruguay | 11 |
| Bombay, India | 8 |
| Panama City, Panama | 7 |
| Calcutta, India | 6 |
| Cali, Columbia | 6 |
| Oruro, Bolivia | 6 |
| San Salvador, El Salvador | 6 |
| Kingston, Jamaica | 5 |
| Nairobi, Kenya | 4 |
| Guatemala | 3 |
| Lima, Peru | 3 |
| Peth, Australia | 3 |
| Leon, Mexico | 2 |
| Madras, India | 2 |
| Rangoon, Burma | 2 |
| Recife, Brazil | 2 |
| San José, Costa Rica | 2 |
| Torreon, Mexico | 2 |
| Valparaíso, Chile | 2 |
| Barcelona, Spain | 1 |
| Santiago, Chile | 1 |
The LaSalle company was out to prove that not only did their cars have style, but speed and performance too. In addition to selling cars all over the globe, LaSalle decided to show the world what their car was capable of at the Indianapolis Motor Speedway. On June 20, 1927, an engineering durability test was conducted where a LaSalle roadster was driven over a distance of 951.87 miles, which was a continuous run at an average speed of 95.3 miles per hour. For comparison's sake, the 1927 Ford Model T was only capable of around 35-40 miles per hour, in high gear. According to GM's notes during this run, no mechanical adjustments of any kind were made during the entire run, other than stops for tire changing, gasoline, oil, and water. The LaSalle was driven by race car driver Willard Rader.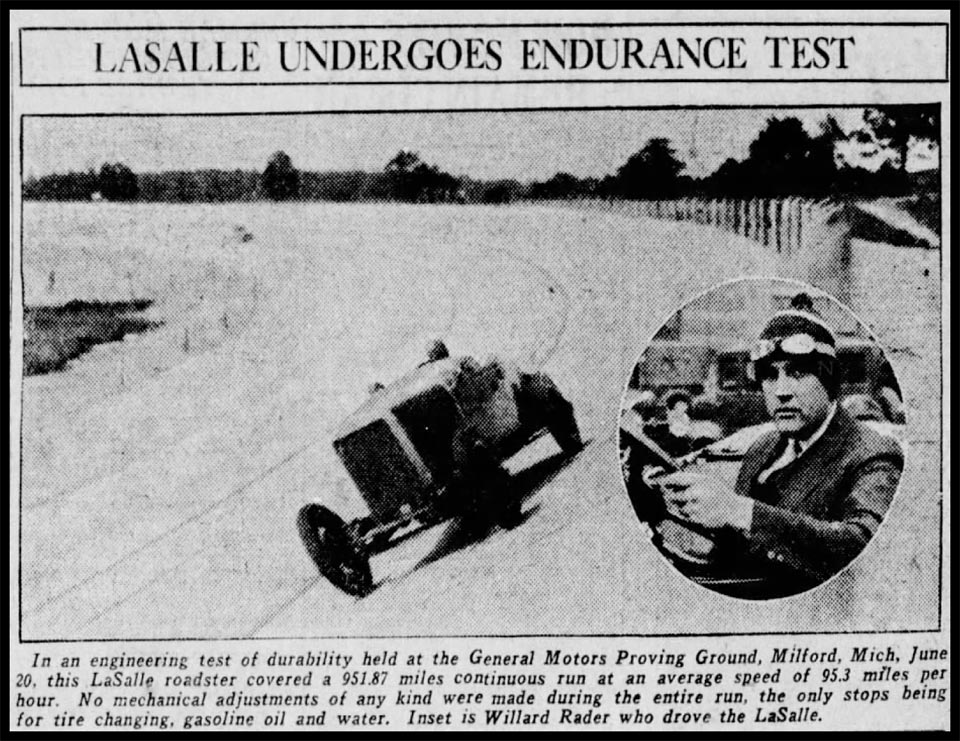 Lange's LaSalle eventually ended up in the basement of the Langren Hotel, which had its own garage door and service entrance. It was in the basement, where the car was covered in Venetian blinds for protection. It was graced by two other vehicles: a 1928 LaSalle Coupe and a 1928 Chandler sedan. The 1928 Chandler is also part of the collection here at the Estes-Winn Antique Car Museum. These vehicles would not see the light of day or be rediscovered until 1964 when they were purchased by Asheville native and Cadillac dealer Harry Blomberg. Harry, along with one of his top salesmen, Bob Allen, and Bob's brother-in-law, Joe Liner, rescued these cars from the basement of the Langren Hotel. Bob and Joe hauled them out of the Langren while it was being salvaged prior to demolition in 1964.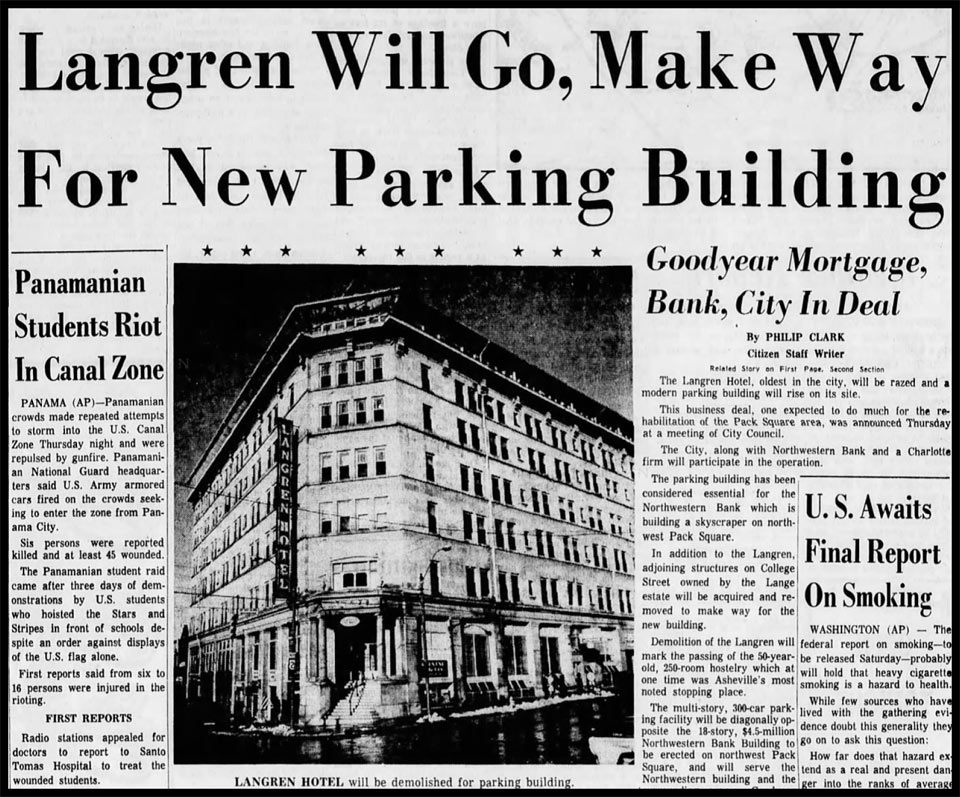 The urban legend about these cars was that they were hidden behind a faux wall in the basement and were not discovered until demolition crews came in to tear down the hotel. This seems to not be true, as Asheville residents who were interviewed for this article remembered seeing the cars in the basement, hiding in plain sight. Lange's family believes they were hidden to be protected from thievery during the Great Depression and scrappers during World War II. Lange II died in 1959, and his own son, John H. Lange III (1915-1999), did not know he even had the car until it was discovered in the basement of the hotel.
Harry, Bob, and Joe immediately began to recommission the cars to get them back into show and touring duty around Asheville. Joe Liner rebuilt all of the wooden top bows in the convertible top, made from white ash, and helped to restore the interior. His daughter, Brenda Liner-Dawson, remembered driving the LaSalle from their home in Oakley to Harry's Cadillac-Pontiac Co. on 68 Haywood Street, across from where the Pack Library is sited today. She recalled worrying about stalling the car or rolling back into traffic when she reached the top of Coxe Avenue but did neither as she expertly piloted this beautiful automobile back to Harry's. She was only a teenager at the time.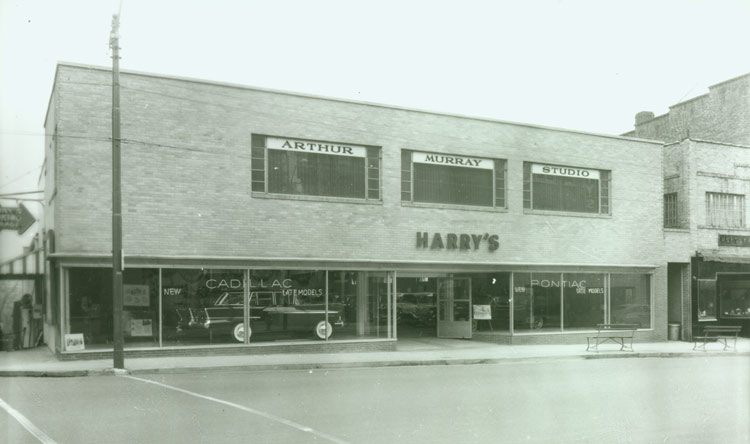 After Harry restored the LaSalle, he took it to several car shows in Asheville. One, in particular, was the Antique Automobile Club of America (AACA), Land of the Sky chapter show at the Biltmore Estate in 1965. This event was hosted on the main lawn of the estate, and participants dressed in period correct 1920s clothing. Bob Allen was a decorated judge for the AACA and judged many of their car shows, including this show. In addition to the 1927 LaSalle, Harry also brought the 1928 Chandler to this show (found along with the LaSalle in the basement of the Langren Hotel).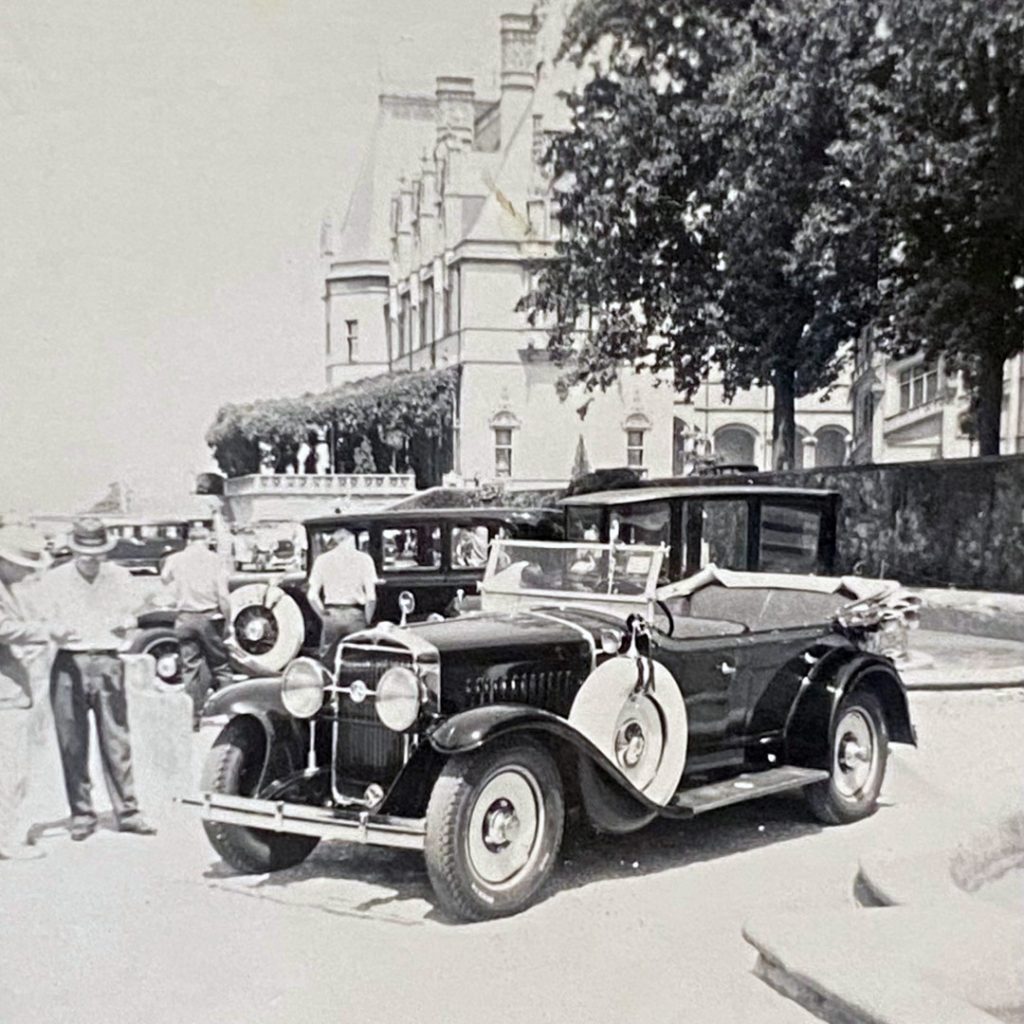 The LaSalle would come in and out of the museum over the years for various appearances and advertisements with its top up and down. Although some cars have come and gone from Harry's collection, the LaSalle has been part of our collection for over 55 years and is the first car to greet you when you enter our museum. Here's to another 55 years with our LaSalle!
---
Do you have any information? If you remember anything about our 1927 LaSalle being found at the Langren Hotel or why it was hidden/stored there, please email us at info@grovewood.com.