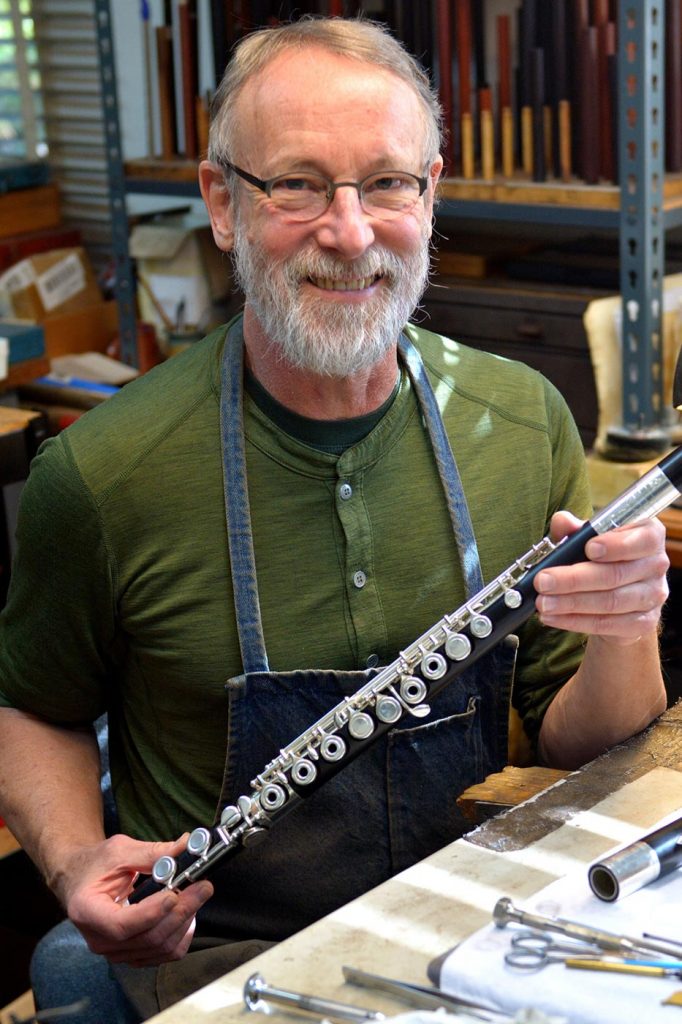 Chris Abell
Wooden Flutes and Whistles
Flutemaker Chris Abell handcrafts Boehm system wooden flutes, headjoints, and whistles, predominantly from aged African Blackwood and sterling silver. He has been a resident artist at Grovewood Village since 1995.
Abell's work is significant because he has reintroduced the wooden flute to a scene that has been dominated by the metal variety for over a century. With often a two-year waiting list, his high-end wooden flutes are in demand throughout North America, Europe, and Asia for their dark, rich tone. His instruments can be heard on many movie soundtracks, and are played by soloists, orchestral musicians, and recording artists of the highest caliber.
Chris Abell studied metal flute making in Boston with Brannen Brothers Flutemakers, one of the most respected companies in the industry. After returning home to Asheville in 1995, he decided to try his hand at making wooden flutes – a practice that had been all but abandoned since the 1930s.
Each Abell flute requires a long crafting process with great attention to detail. Chris fashions the hundreds of parts used to create the mechanics of the flute, tiny components that are meticulously assembled. The process requires precision, passion, and patience, but when a flute is finally completed – a true work of art – the craftsmanship is evident in every note.
Studio Visits
Outside of our scheduled tour dates (second Saturdays, May – October), studio visits are by private appointment only. You can view examples of Abell's wooden flutes and whistles at Grovewood Gallery.
Discover more about the Abell Flute Company