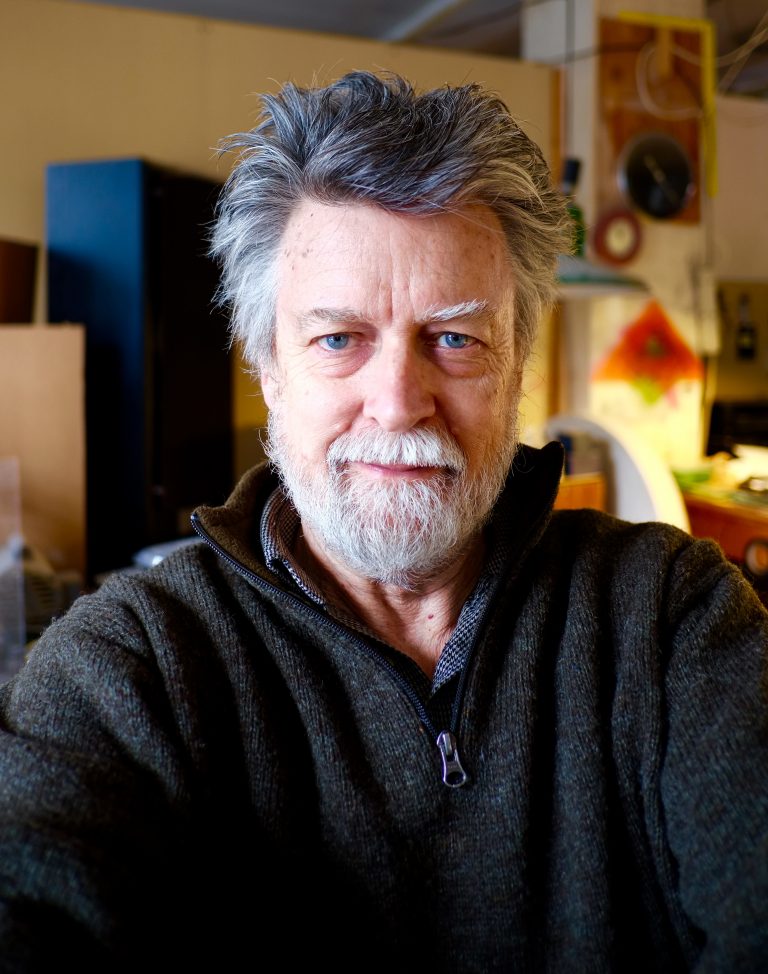 Carl Powell
Glass Sculpture & Stained Glass
Carl Powell has been a resident artist at Grovewood Village since 1999. He is a National Endowment for the Arts fellowship recipient who has been working with glass since the 1970s.
From residential stained glass projects to complete glass environments for public buildings, Powell uses innovative beveling techniques to transform the art of glass into a visually kinetic experience. His stained glass artwork and glass sculptures feature multi-faceted shapes that form optical and geometric illusions, surprising the viewer with an invitation for a closer inspection.
Powell's work has been featured in New Glass Review, a flagship publication of The Corning Museum of Glass, and Americans in Glass, a three-year exhibition that traveled to major museums from 1978 to 1981.
In the early 1980s, Dale Chihuly – considered a leader of the studio glass movement – personally invited Powell to teach at Pilchuck Glass School in Stanwood, Washington. Founded by Chihuly in 1971, Pilchuck is the world's most comprehensive center for glass art education. Powell stayed on for three years, teaching sculptural techniques and grinding and polishing for stained glass.
Carl Powell has been commissioned for work by the City of Anchorage (AK), the City of Atlanta (GA), the University of Florida, and the International Olympic Committee. His work is in the private collections of notables such as painter Robert Rauschenberg, Dale Chihuly, Paul Marioni, and actress Tess Harper.
In 2016, Powell was awarded a large commission to design, fabricate and install seven stained glass windows for the Van Dyke Performance Space in downtown Greensboro, North Carolina – quite the honor considering over 100 artists from around the country applied.
Studio Visits
Outside of our scheduled tour dates (second Saturdays, May – October), studio visits are by private appointment only. You can view examples of Carl's glass sculptures at Grovewood Gallery.
Discover more about Carl Powell