Harry D. Blomberg was born in Asheville to Lewis and Mollie Blomberg on August 24, 1904. The youngest of five children, Harry grew up on Spruce Street in a bustling neighborhood of family homes and boarding houses, including Thomas Wolfe's mother's boarding house, Old Kentucky Home.
Harry's father, Lewis Blomberg, was a Jewish immigrant who came to America from Linkova, Lithuania, and settled in Asheville in 1887. Over the years, he had many businesses downtown, including The Model Cigar Store at 17 Patton Avenue and The Racket Store (a dry goods emporium) at 16 Biltmore Avenue.
Much to his father's chagrin, Harry was captivated by automobiles from an early age and had no interest in going into the family business. He was not a good student and dropped out of high school after ninth grade. Lewis famously told Harry, "You will never amount to anything; you have wheels in your head." And even his Asheville High School principal, Andy Hutchins, cautioned him about spending all his time tinkering with cars. "You're wasting your time fooling around with cars," Hutchins warned. "You ought to get a job and go to work." Harry would prove them both wrong.
In 1923, when Harry was 19, he and his childhood friend, Clarence Sluder, opened one of the first gasoline filling stations in Asheville on the corner of Market and Walnut Street (now the Blomberg Annex to the Asheville Community Theater). Proving to be a man of vision, Harry said: "We could see the future of the business and the growth of automobiles." Sluder eventually decided to return to college, and Harry bought out his half of the partnership.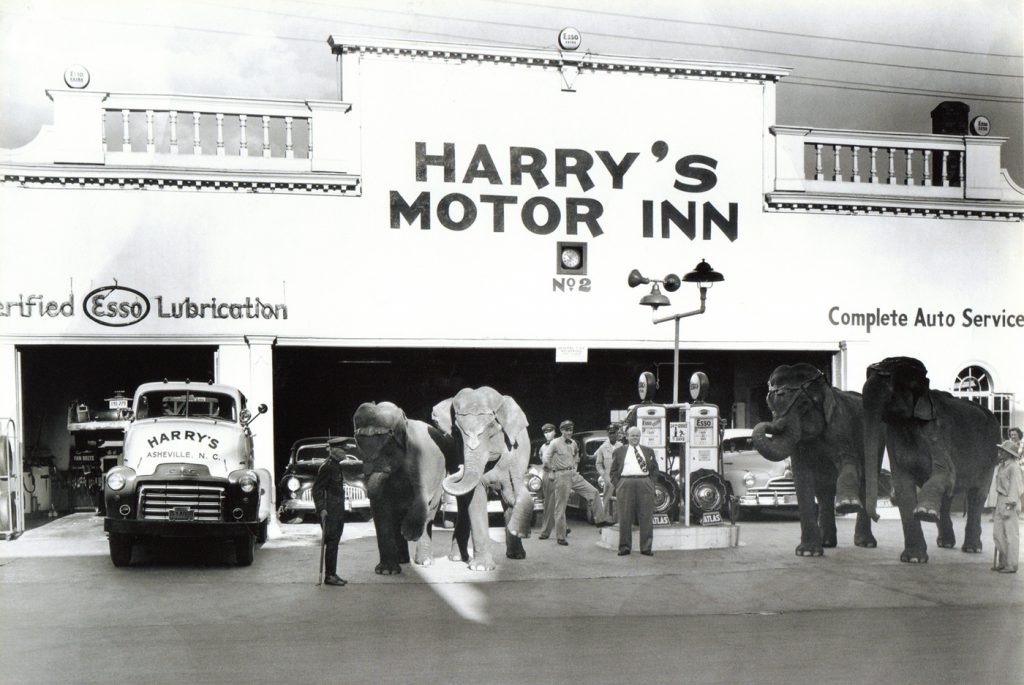 Harry was married to Shirley Rosenfeld on December 24, 1924, as his business was beginning to grow. Needing more room to expand, he leased a lot in 1926 from Julia Wolfe, Thomas Wolfe's mother, on the backside of her property on Spruce Street. The building he built, fronting on Market Street, would become known as Harry's Motor Inn.
Harry correctly gauged the future and the needs of automobile owners. He knew they would need fuel and service, and in those days, most cars were open-air models with ragtop roofs, so they needed somewhere to be housed during bad weather. Harry's Motor Inn offered all of those things in one place. He would open two more Motor Inns, one on Haywood Street downtown and one on the grounds of the world-class Grove Park Inn.
In 1937, at the age of 33, Harry was offered the Western North Carolina dealership for Cadillac-LaSalle. He opened a showroom downtown across from Harry's Motor Inn #2 on Haywood Street and eventually added other makes, including Pontiac. His dealership struggled during World War II, but when thousands of servicemen and women began to return home, automobiles were in big demand. In the ensuing years, Harry's business grew leaps and bounds, as did his interest in the welfare of Asheville.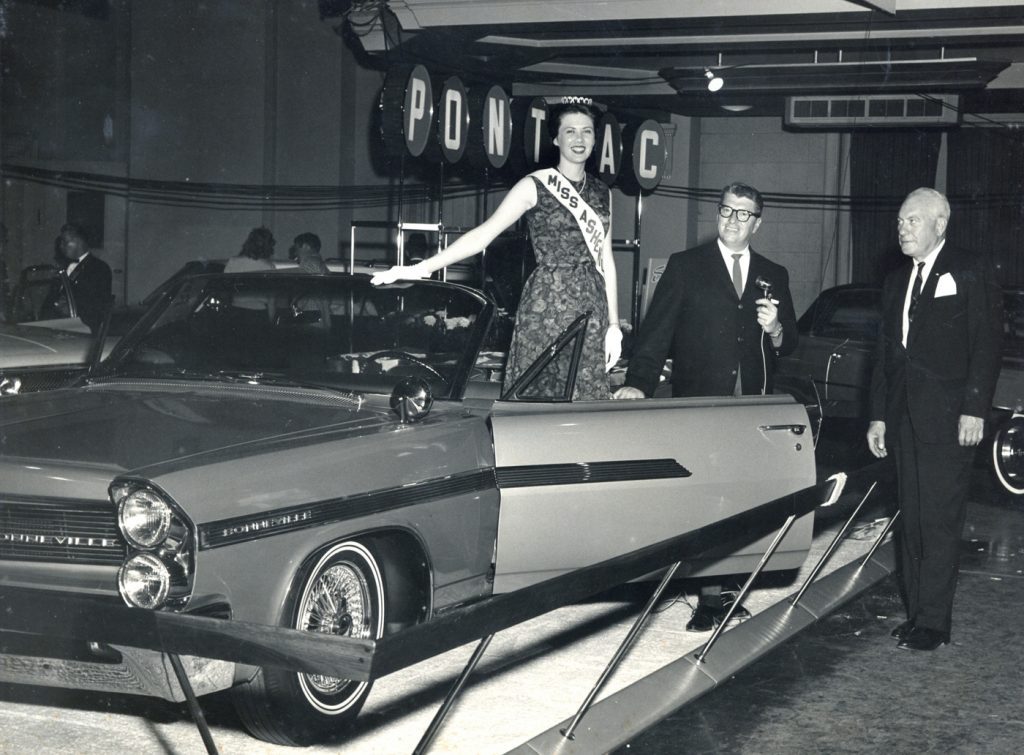 In 1953, Harry purchased Biltmore Industries, an Arts & Crafts enterprise – originally backed by Edith Vanderbilt – that grew from a small start as a craft education program to become one of the largest producers of handwoven wool in the world. Fred Seely, the son-in-law of E.W. Grove, bought the Industries from Mrs. Vanderbilt in 1917 and relocated it from Biltmore Village to north Asheville, adjacent to The Grove Park Inn. After Seely died in 1942, his son, Fred Seely Jr., showed little interest in the business, and the nationally acclaimed operation began to fall apart.
Seely's family eventually decided to liquidate the business, and one day Harry came by to get a table for his cabin at Lake Lure. He was taken by an old moonshine still in the corner, and when he inquired about purchasing it, the manager half-joked that the only way he could buy the still was to buy Biltmore Industries. Harry really wanted to preserve this historic part of Asheville and hated the idea of it being closed, so after 20 minutes of negotiations, he bought the whole operation.
With the help of Bob Stevens, the superintendent of Biltmore Industries since 1917, Harry hired back several former employees. The weaving of Biltmore Homespun was able to continue, yet on a smaller scale, until 1981.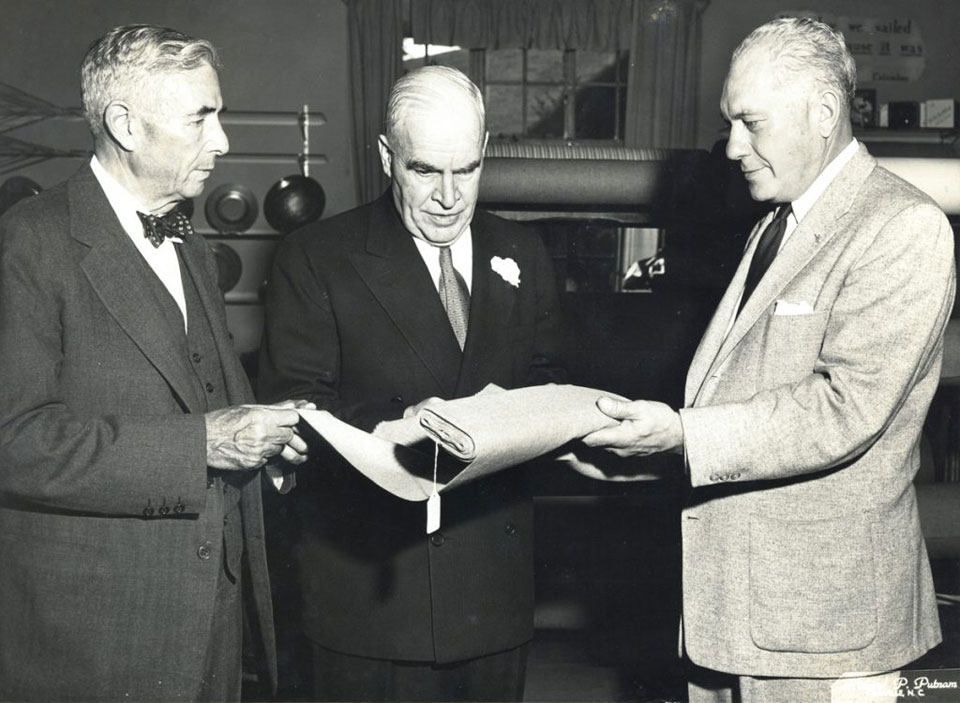 After downsizing the Industries, the weaving shed – which once housed 40 looms – eventually became available to shelter Harry's antique car collection that he and his dealership had come to own over time. He employed a crew of skilled mechanics, technicians, and artisans to faithfully restore each vehicle in his collection to as near original condition as possible, sparing no detail in the process.
On June 20, 1966, the Estes-Winn Antique Car Museum opened its doors to the public. Harry dedicated the museum to Cathryn Estes and Barbara Winn. Estes was the first wife of General Motors president E. M. Estes. She died in 1965. Winn was the granddaughter of Lonnie Holmes, a Pontiac executive. Winn died of cancer at the age of 15.
In 1967, needing room to expand, Harry moved his car dealership to Patton Ave overlooking Town and Country Shopping Center, and it became known as Harry's On The Hill. Today, the dealership continues to prosper and is run by Harry's granddaughter, Pat Grimes.
The wheels in Harry Blomberg's head never ceased to turn. He made a fortune in the automobile industry and remained an active businessman, civic leader, and leader in the Jewish community until his death in 1991. He belonged to the Kiwanis Club, the Masons, and the Shriners and also served on the board of directors of St. Joseph Hospital.
One of Asheville's greatest benefactors, Harry even saved Julia Wolfe's boarding house, Old Kentucky Home, from demolition in 1941, then sold it back to the Wolfe family three months later because he believed it belonged to them. The house was eventually turned into a memorial for Julia's son, famed author Thomas Wolfe.
In 1992, Harry's daughters, Barbara and Marilyn, and his son-in-law, S.M. "Buddy" Patton, began an energetic campaign to revitalize and reshape the direction of Biltmore Industries, which resulted in the opening of Grovewood Gallery and several working artist studios. Today, the property is known as Grovewood Village and is still home to Harry's antique car museum. His family continues to keep the doors open (free of charge) to the Asheville community and anyone who enjoys antique and vintage automobiles.