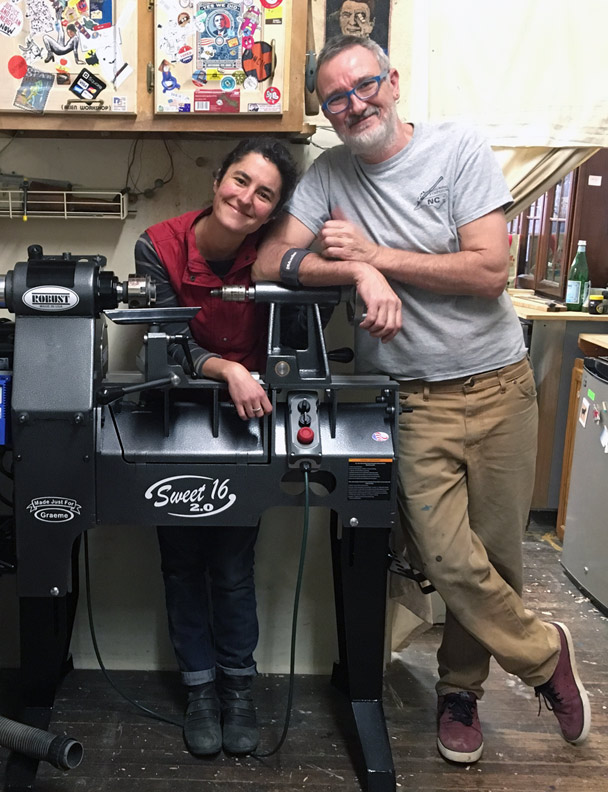 Melissa Engler & Graeme Priddle
Sculptural Wood Art
Melissa Engler and Graeme Priddle have been collaborating on sculptural wood art in their Grovewood Village studio since 2015. This husband-and-wife team maintains a busy exhibition schedule, while also teaching woodturning workshops around the globe.
Melissa holds a B.A. in sculpture from the University of North Carolina at Asheville. She is also a graduate of Haywood Community College's Professional Crafts Program, where she studied furniture making. Her work has been featured in Carolina Home + Garden, WNC Magazine, Woodwork Magazine, and American Craft. Engler's interest in conservation and her love of the outdoors inspires her work in wood. She hopes that her sculptures "convey a sense of our primal connection to our environment and evoke an awareness of its tenuous state."
Graeme Priddle has been a woodworker for over 25 years and is widely known for turned and carved sculptural work. Many of his sculptures reflect the life and environment of his home country, New Zealand. His work has received numerous awards and has been exhibited worldwide. Priddle is very active in the woodturning world. He served on the committee of the New Zealand National Association of Woodturners for five years and was instrumental in establishing CollaboratioNZ, a biennial week-long art event based in Whangārei Heads, New Zealand.
Studio Visits
Outside of our scheduled tour dates (second Saturdays, May – October), studio visits are by private appointment only. You can also view examples of Melissa and Graeme's sculptural work at Grovewood Gallery.
Discover more about Melissa Engler
Discover more about Graeme Priddle