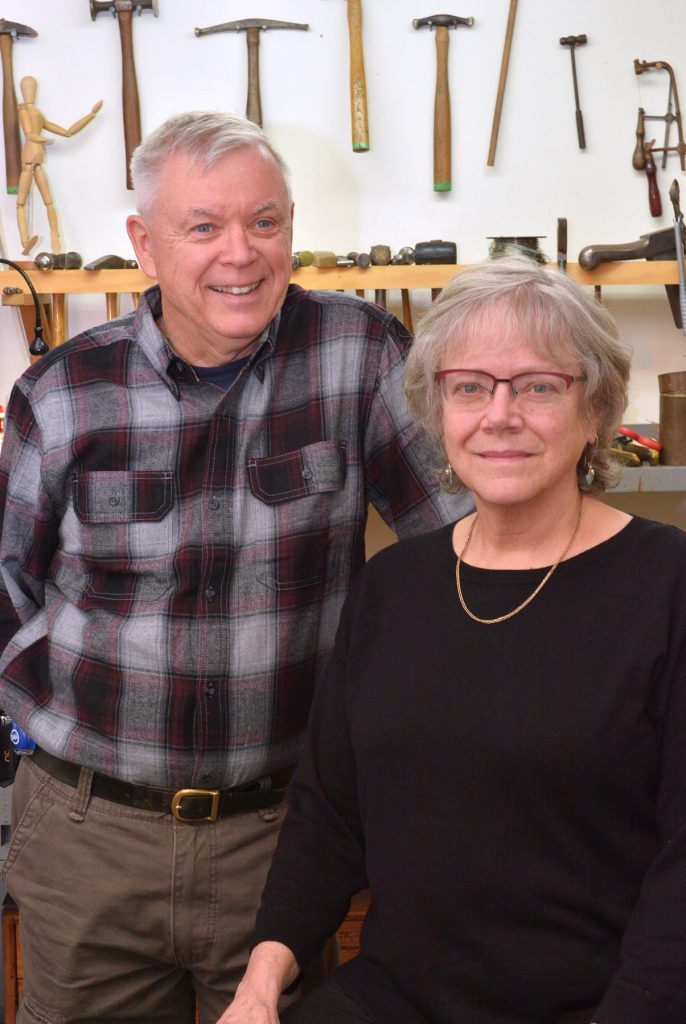 Tom Reardon & Kathleen Doyle
Jewelry & Metalwork
Tom Reardon and Kathleen Doyle have built a reputation as world-class jewelers and metalsmiths. These artistic partners have been working together for over 35 years and have operated out of their Grovewood Village studio since 1995.
Married in San Francisco on Valentine's Day in 1985, Tom and Kathleen spent their early years teaching at the university level for a decade before they met. Since then, they've created a full-time American Craft business that flourished nationally. Together they create everything from dimensional mixed metal brooches to gold and precious stone jewelry to commemorative site-specific works.
Since relocating to Asheville, Tom and Kathleen have found inspiration in the dynamic growth of the local art scene and the natural beauty of Western North Carolina. In fact, their "Pisgah View" mountain rings continue to be a customer favorite.
Tom Reardon and Kathleen Doyle welcome custom jewelry orders and incorporate their lifetime of good design into each piece.
Studio Visits
Outside of our scheduled tour dates (second Saturdays, May – October), studio visits are by private appointment only. Tom and Kathleen's latest collection of jewelry and fine metalwork is on display and available for sale through Grovewood Gallery and Gallery of the Mountains.
Discover more about Tom Reardon & Kathleen Doyle