Artist Spotlight: Anja Bartels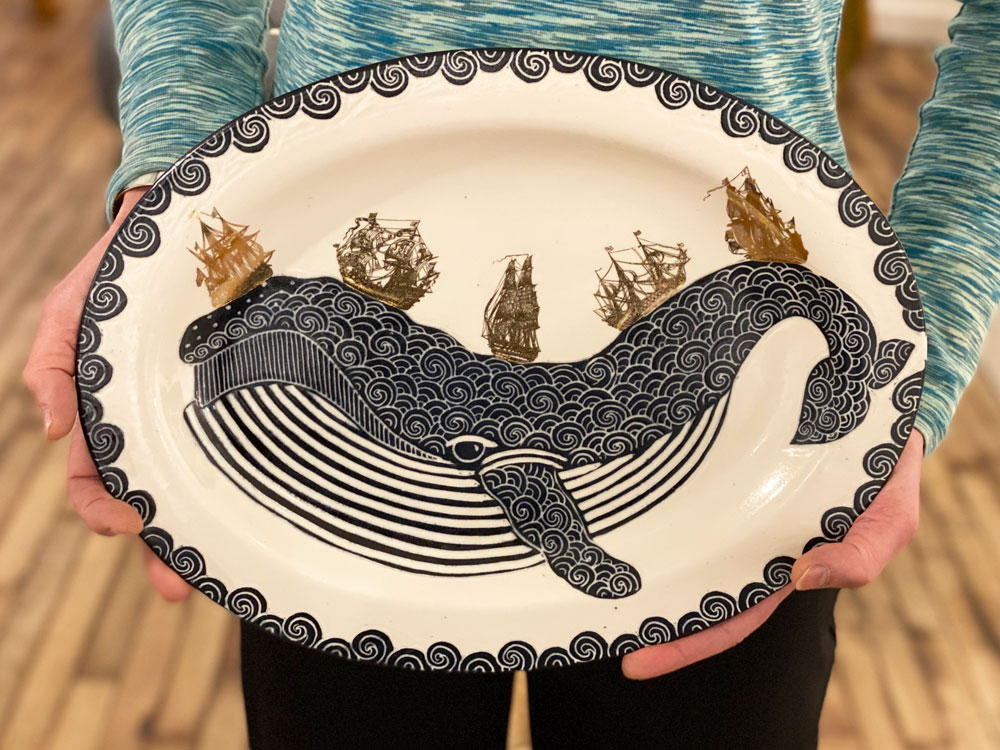 The work of Asheville-based studio potter Anja Bartels is a new addition to Grovewood Gallery. Originally from Hamburg, Germany, Anja's porcelain art is inspired by her love of the ocean and her childhood memories of growing up in a port city on the North Sea. After completing a three-year apprenticeship with a master potter, she received her journeyman ceramics degree from the German Chamber of Crafts and Trades. She is now an artist-in-residence at Odyssey ClayWorks in Asheville.
We recently had the opportunity to speak with Anja about her creative journey as an artist and what drew her to the Asheville area.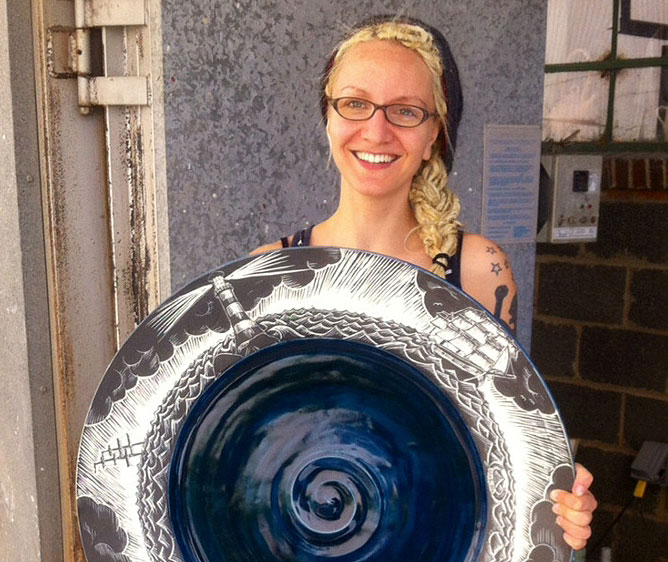 Interview with Anja Bartels
Do you come from an artistic family? Were your parents or grandparents makers?
AB: Yes, my dad is a musician; he plays the guitar in a swing band, and his father was an amazing photographer. Most importantly, though, my parents always encouraged me to be artistic and creative.
When did you first fall in love with pottery, and why did you choose porcelain as your medium?
AB: I fell in love with pottery while living in a hippie commune in Virginia. There was this abandoned pottery studio behind the cow barn, and one day, I went in there and started teaching myself how to throw pots on the wheel. I moved back to Germany to find a master to apprentice with, and the woman I found worked in porcelain, so that part was pure chance.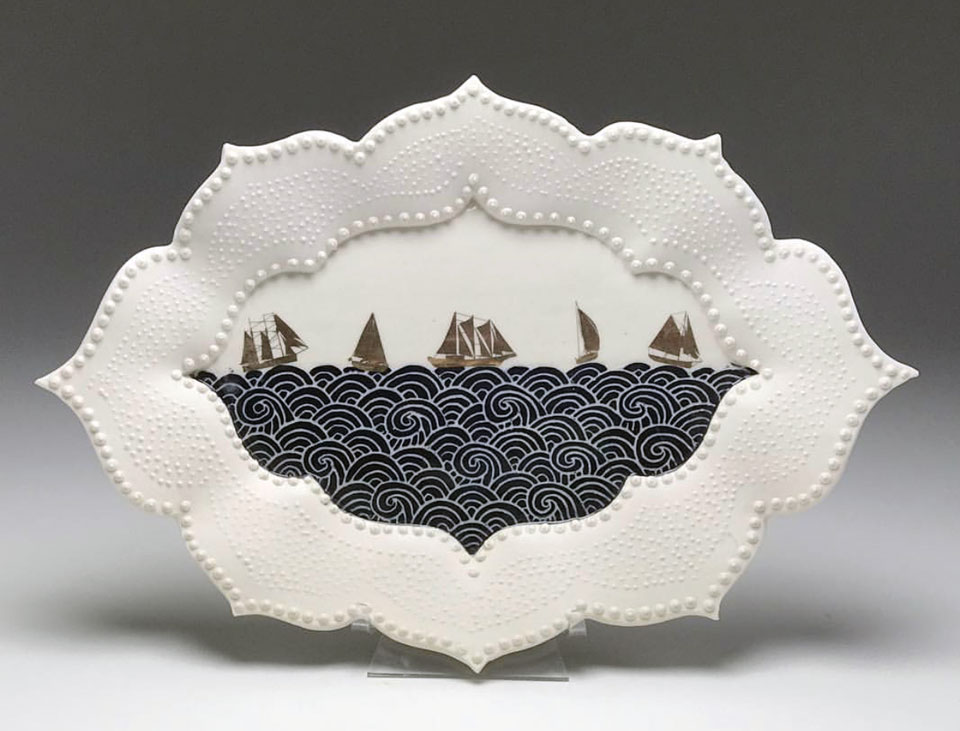 Tell us about your pottery apprenticeship in Germany. Where did you study, and what did the apprenticeship entail?
AB: I worked alongside a master potter during my three years in Bremen. The focus of all apprenticeships in Germany is on technical skill and craftsmanship. I learned how to perfectly replicate whichever form needed to be produced, down to my master's signature on the bottom of the pot. Additionally, I was in charge of prepping the porcelain, mixing glazes, firing the kilns, doing bookkeeping, and working with customers. It was a tough three years, but they certainly paid off.
How does being a professional potter in the United States compare to Germany?
AB: The ceramics scene in the US is definitely larger and a lot more lively than in Germany. I believe it is easier to make a living as a potter here, especially in the Asheville area; however, you have a lot less competition in Germany. I found that people here are thrilled to buy and collect handmade pottery, whereas, in Germany, people are more likely to either go to IKEA (cheap) or Meissen (expensive) for their china, but they don't seek out individual artists.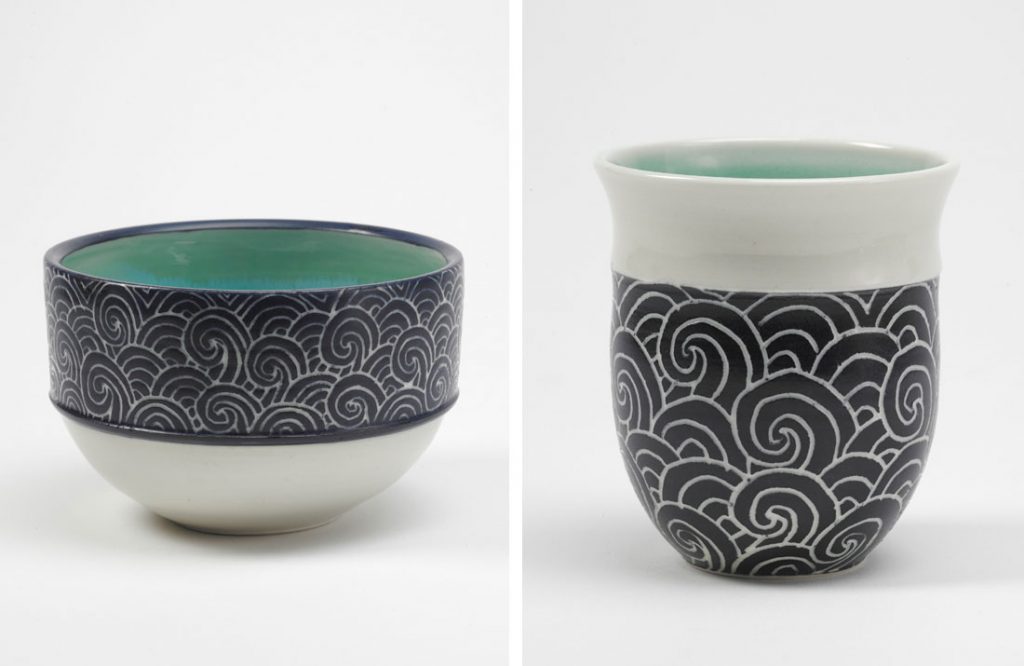 What drew you to the Asheville area?
AB: I moved to Asheville after graduating from my apprenticeship specifically to become involved at Odyssey ClayWorks. I applied to become one of their resident artists and eventually got that position which was life-changing. I am now the online gallery manager and have a permanent studio space at Odyssey ClayWorks.
I really love your nautical surface designs. How did growing up in a port city influence your aesthetic?
AB: Growing up around ships and maritime culture most definitely shaped me and everything I am passionate about, but the funny thing is that my work didn't even take a nautical turn until I moved to the mountains. This type of work suddenly started emerging out of me; it was not a conscious decision. It is my way of connecting with the ocean.
SHOP: Sea Urchin-Inspired Votives
What's something about your work or process that would maybe surprise people?
AB: I believe that my apprenticeship taught me how to be a true production potter and a good craftswoman. I don't wait around for inspiration or creativity to strike before I go to the studio in the morning. I find that immensely freeing because it takes the pressure off the creative process. Creativity will hit me at random times a couple of times a year, often before drifting off to sleep, when a new idea suddenly comes to me.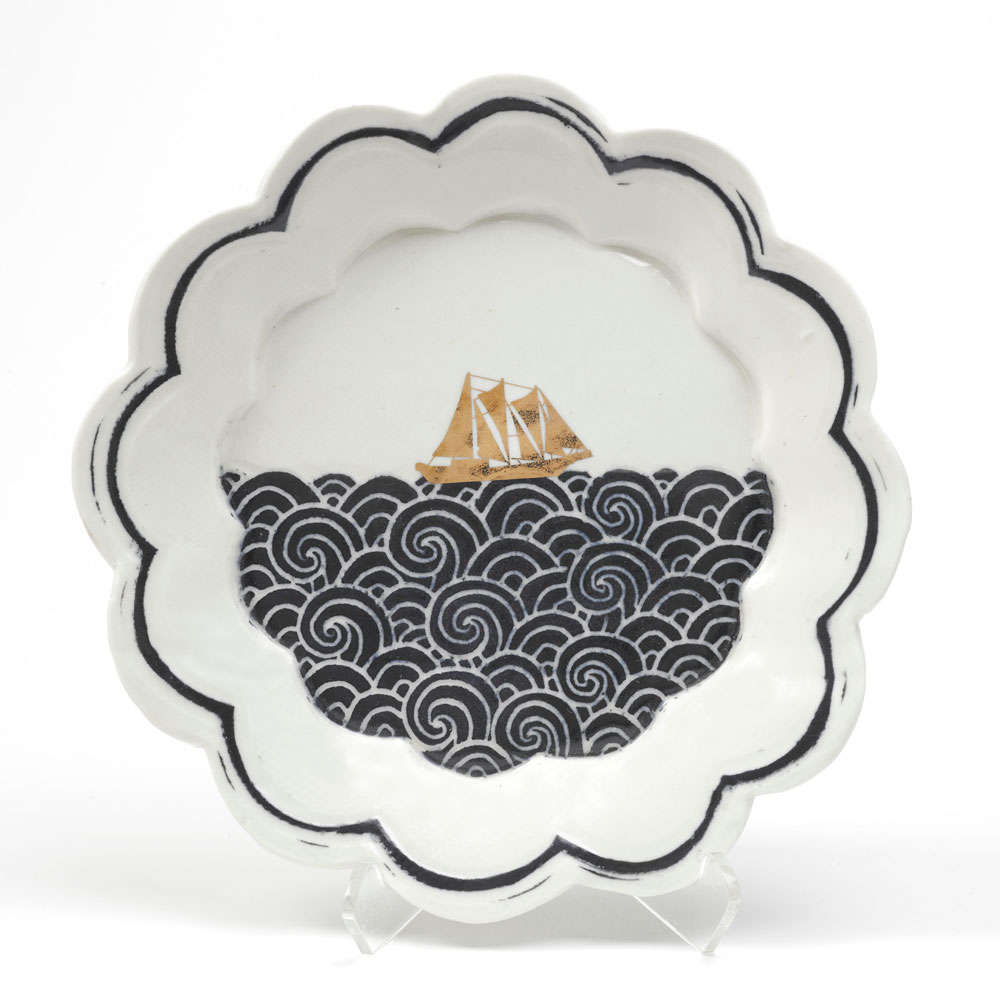 Do you listen to any podcasts or music while you work?
Oh yes, I am obsessed with audiobooks! I love books about shipwrecks and marine biology. They keep my mind entertained while I work with my hands.
When you're not in the studio, what do you enjoy doing?
Like a good Ashevillian, I enjoy hiking. In the past few years, I've gotten really into Mycology: learning about mushrooms, identifying the ones that grow in these mountains, and making extracts from medicinal mushrooms.