Artist Spotlight: Lyman Whitaker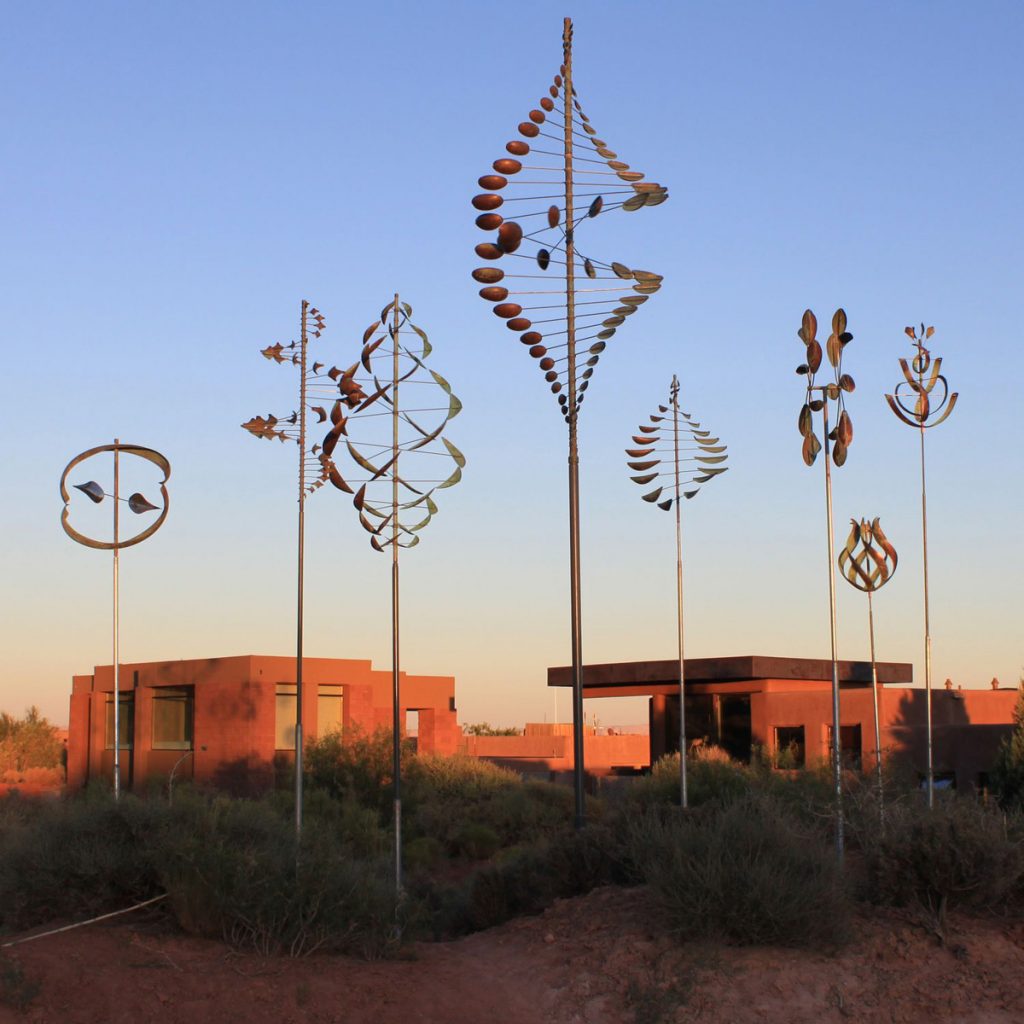 Lyman Whitaker is one of Grovewood Gallery's most celebrated artists. Since the 1980s, he has focused his artistic ability on gracefully capturing the spirit of the wind through his kinetic art.
While attending the University of Utah in the 1970s, Lyman learned classical sculpture techniques from renowned artist Avard Fairbanks and also studied under Angelo Caravaglia, an accomplished contemporary sculptor. It was during this time that Lyman first experimented with kinetic art.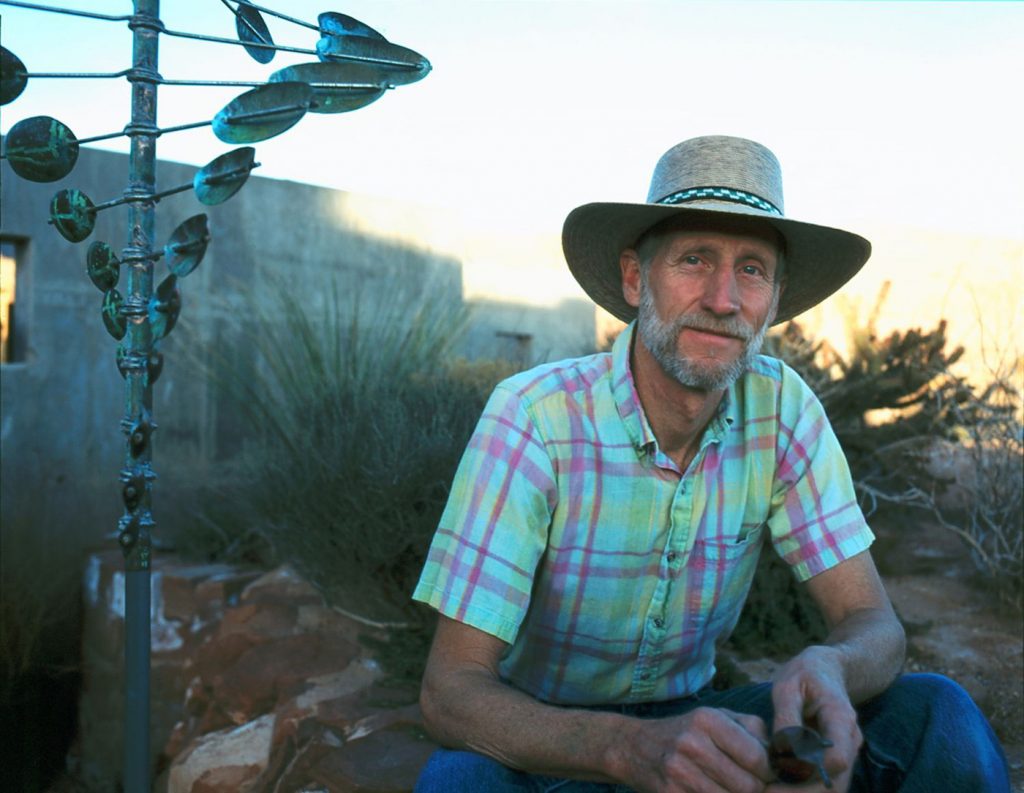 The international success of Lyman's kinetic works, known as "Wind Sculptures," has allowed him to construct a well-equipped studio near Zion National Park in Utah. Together with his wife, Stacy, and brother, John, he has built a creative partnership based on complementary talents.
Whitaker Studio offers more than 50 wind sculpture designs that range in height from 3.5 to 28 feet. Each sculpture is handmade from either copper or stainless steel – metals chosen for their beauty and durability. Lyman's works are responsive to the slightest breeze, yet are also designed to withstand winds of up to 100 MPH.
We recently had an opportunity to ask Lyman some questions about his Wind Sculptures and what inspires these kinetic creations.
What drew you to kinetic sculpture?
LW: I love sculpture, and I love movement. And given a day of curious play in my studio, the first wind sculpture was developed. The response to the work drew me further into the expression, and now it's the focus of my life's work. Before that time, I worked with a variety of mediums, with a focus on sculptural forms.
Where do you find inspiration for your designs?
LW: I derive my inspiration from the plant kingdom. Leaves, stems, roots, fruits, and flowers are things I draw from. Spending as much time as I can outside helps me develop an eye for forms in nature.
Are there any particular places or designers that have influenced you?
LW: All natural environments inspire me. I feel fortunate to live in a rural area where I have easy access to the natural world. I believe that Alexander Calder is the artist that has most inspired me.
How is your personality reflected in your work?
LW: Light, soft, gentle, moving, and meditative are qualities I am told I possess. I think they are reflected in my work.
Is there a Wind Sculpture design you're most proud of? If so, why?
LW: My favorites have varied over time and with my mood. The Oval Twister and Sail are a couple I especially love. The Oval Twister displays interesting timing as it turns, with the top appearing to rotate slowly while the center appears to rotate at an accelerated tempo. Sail has a graceful nautical look that I find intriguing.
What memorable responses have you had to your work?
LW: A number of collectors have taken the time to express that they found a sense of peace in my sculptures at a time of loss. It gives me pleasure to help soften their pain. Also, the stories of my wind sculptures surviving hurricanes or strong storms make me feel happy that they endure even in extreme conditions.
Can you tell us about any recent public commissions or shows that you've had that were especially meaningful to you?
LW: Because of my love of the plant kingdom, the chance to have a show at the Dallas Arboretum was a great opportunity. The 65-acre gardens inspired over 17 collections of sculptures that were carefully curated for each location. I felt my sculptures settled into a beautiful location with a sense of ease and comfort that surprised even myself. It gave me such satisfaction to see the harmony between the plant kingdom and the mechanical representation of it.
What's your dream project?
LW: I don't have a single dream project at this time. Since nothing in my world remains static, my dream projects change. Right now, I'm interested in exploring new metals and materials. Basically, I have to say, I'm living my dream, one day at a time.