Artist Spotlight: Hog Hill Pottery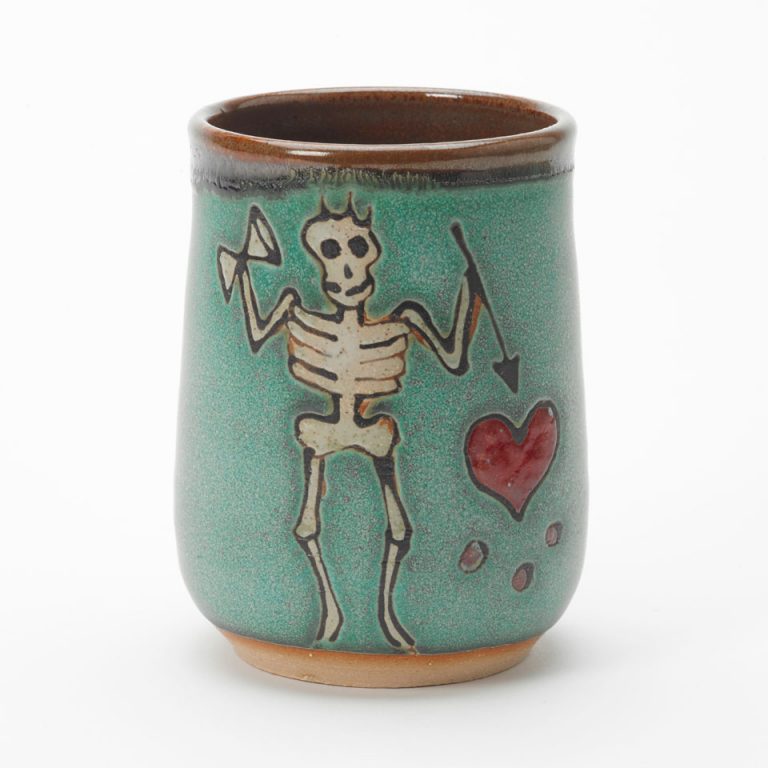 Hog Hill Pottery, the studio of husband-and-wife team John and Scottie Post, is located in Catawba County, North Carolina, the western part of the state in the foothills of the Blue Ridge Mountains. John and Scottie are best known for their stoneware pottery inspired by the motifs of the Arts and Crafts movement, but they also offer a line of artisan-crafted pirate cups, a customer favorite here at Grovewood Gallery.
The cups are available in six designs: the Queen Anne's Revenge, and the pirate flags of Blackbeard, Stede Bonnet, Christopher Condent, Henry Every, and Calico Jack.
We recently had the opportunity to speak with John Post about the inspiration behind Hog Hill Pottery and their popular line of pirate cups.
Interview with John Post of Hog Hill Pottery
Catawba County has a rich pottery tradition. What makes this area so special for makers such as yourselves?
JP: One of the advantages is the overall awareness of serious craftwork. Many people have had relatives and ancestors who have worked with or known potters, and the local clay is well-suited for functional ware. People here have worked with their hands in manufacturing, woodworking, furniture, and textiles. This appreciation has created an opportunity for studio arts.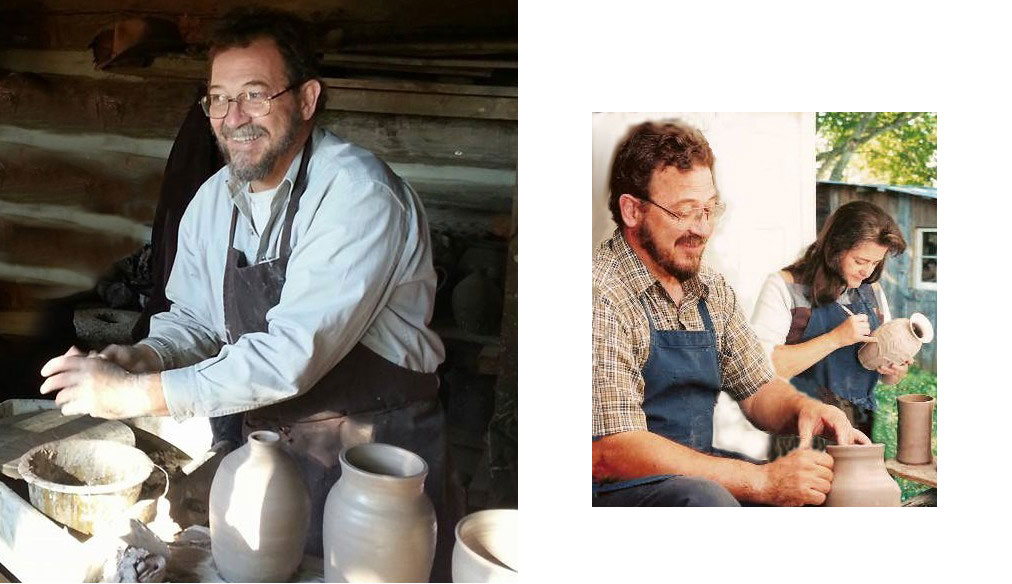 You and Scottie have been collaborating since 1993. How did you meet, and what inspired you to open a studio together?
JP: Scottie and I met in a papermaking class at the Hickory Museum of Art. At the time, we were both teaching and adding competencies in different media. We quickly found out that clay had always been our specific media, and the idea of starting a studio had real appeal.
What's behind the name Hog Hill Pottery?
JP: Our first studio was housed in an old convenience store called the Hog Hill Handy Pantry. Hog Hill is an early settlement name in this area, and it appears on 19th-century county maps. One story is that people ran their hogs out in the woods there to fatten on the acorns. It makes sense. The mast is so thick in the fall, it's like walking on marbles.
The wreckage of Blackbeard's flagship, Queen Anne's Revenge, was discovered just offshore from Beaufort, NC, in 1996. Did this discovery inspire your line of pirate cups?
JP: I've always liked a sense of fun in art. For many families, summer on the water includes playing pirates… Arrrggh! What increased the appeal is that here in North Carolina, the History of piracy is real and fascinating. When reading an article on the discovery of Blackbeard's ship just offshore of Beaufort, NC, I started to look at the designs of various flags for a number of pirates. Soon the idea of a series of cups with different historical flags on them developed.

Describe a little bit about your process in creating these cups.
JP: I wanted them to fit the hand and be well-crafted, wheel thrown, with a trimmed foot, and each cup hand-painted in wax resist and glaze. Each design is rendered in a series of detailed steps.
Approximately how many ounces do the pirate cups hold?
JP: These cups hold 12 ounces. They are designed for hot or cold drinks. Of course, they are perfect for grog.
What memorable responses have you had to this particular line of work?
JP: Our pirate cups have met with a really great response. At shows, I get a kick out of grandmothers buying cups with skulls on them for teenage grandkids. And on Ocracoke Island, I'm a favorite with some descendants of Blackbeard's quartermaster. No kidding!
A recipe sure to bring out the pirate in you!
John and Scottie's pirate cups are made for everyday use. They're the perfect vessel for your morning coffee or tea, as well as your favorite cocktail concoctions.
The FOG CUTTER
2 ounces light Puerto Rican rum
½ ounce gin
1 ounce brandy
1 ounce orange juice
2 ounce lemon juice
½ ounce orgeat (almond-flavored syrup)
½ ounce sherry float
In a cocktail shaker, combine ice with all the ingredients except sherry. Shake until chilled. Strain into your cup filled with ice and float sherry on top.
Source: Trader Vic's Bartender's Guide