Artist Spotlight: Andrea Kulish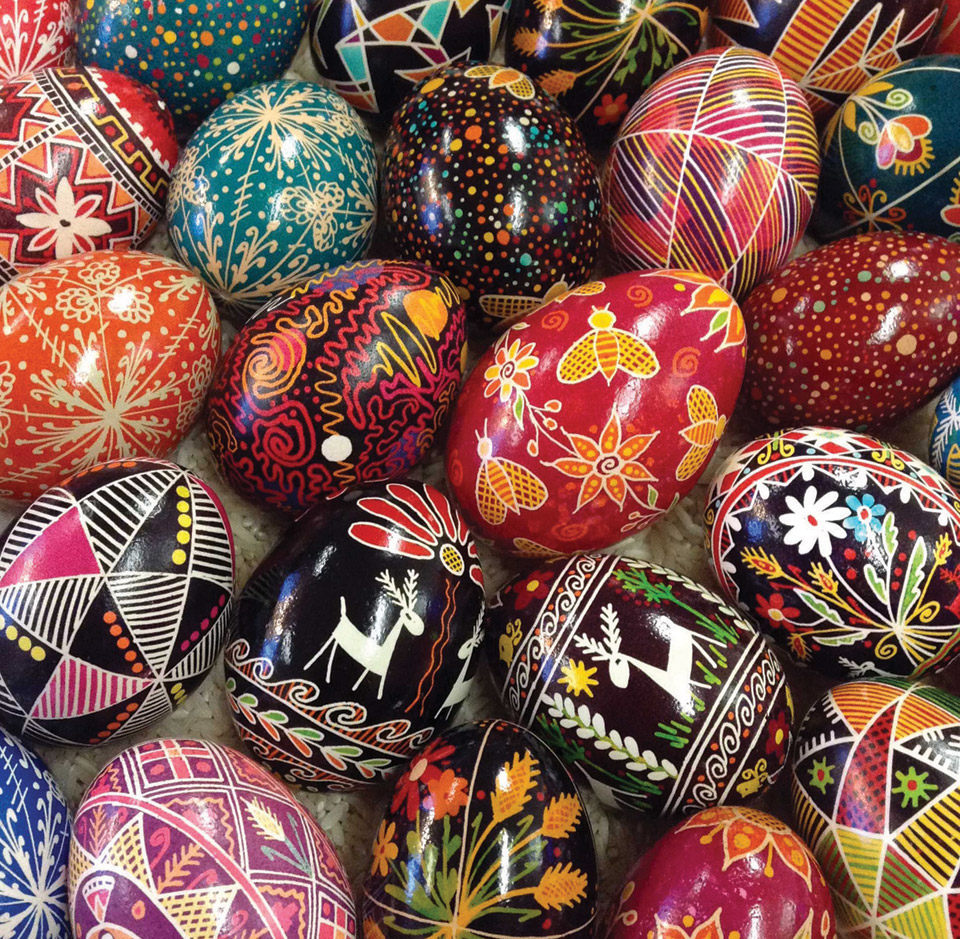 Artist Andrea Kulish, a first-generation Ukrainian-American, has been making pysanky since she was five years old. Pysanky are Ukrainian Easter eggs decorated with traditional Ukrainian folk designs using a wax-resist method. The word pysanka (singular form of pysanky) comes from the verb pysaty, "to write" or "to inscribe," as the designs are not painted on, but written (inscribed) with beeswax. This is a very old tradition, and its beginnings reach back to antiquity.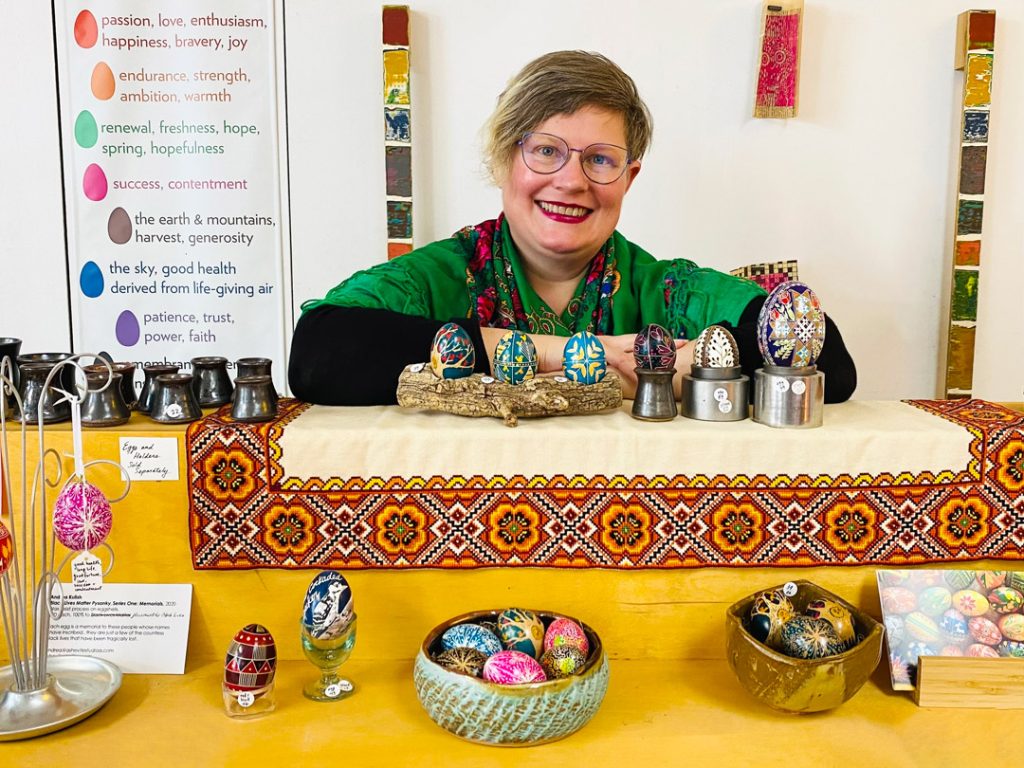 Andrea will be demonstrating the Ukrainian art of pysanky here at Grovewood Gallery this Saturday and Sunday from 11am – 4pm during our 30th-anniversary event. She will also be selling her own pysanky as well as eggs that have been donated by others in the pysanky community. 100% of the proceeds will go to the Ukrainian National Women's League of America (UNWLA) for their humanitarian aid campaign. In the meantime, you can learn more about Andrea and her passion for pysanky in the interview below.
Interview with Artist Andrea Kulish
What drew you to the Asheville area, and how did you become involved with Pink Dog Creative?
Kulish: My husband, Chris Wilhelm (a musician), moved here 11 years ago on a one-month trial basis (before we were married). We loved the nature here, the River Arts District, and the music scene. I moved here two years later (April 2, 2013).
I immediately searched for a studio and heard about one through word of mouth, through an artist Chris is friends with. I feel I was very lucky to end up at Pink Dog Creative (PDC). Besides having over 30 artists' studios here, 2 restaurants, and Grind Coffeeshop, PDC also raises funds and awareness for people and organizations working to make our communities more equitable and just, including Southside Rising, Youth Artists Empowered, and the Edington Center, among others. And a few weeks ago, the Container Project at PDC (2 stacked shipping containers with various murals that change every so often) was painted the colors of the Ukrainian Flag.
When were you first introduced to pysanky? Was creating pysanky a family tradition?
Kulish: My mother taught pysanky workshops in her store in Hudson, NY. Growing up, I sat in on her weekly classes and created pysanky. I always loved it. My Mother was self-taught. My Grandmothers had their own Ukrainian specialties – embroidery, cooking, and baking.
What materials and tools are typically used for making pysanky eggs?
Kulish: Fresh, raw chicken eggs, beeswax, natural or synthetic dyes, a stylus or kistka, and a candle.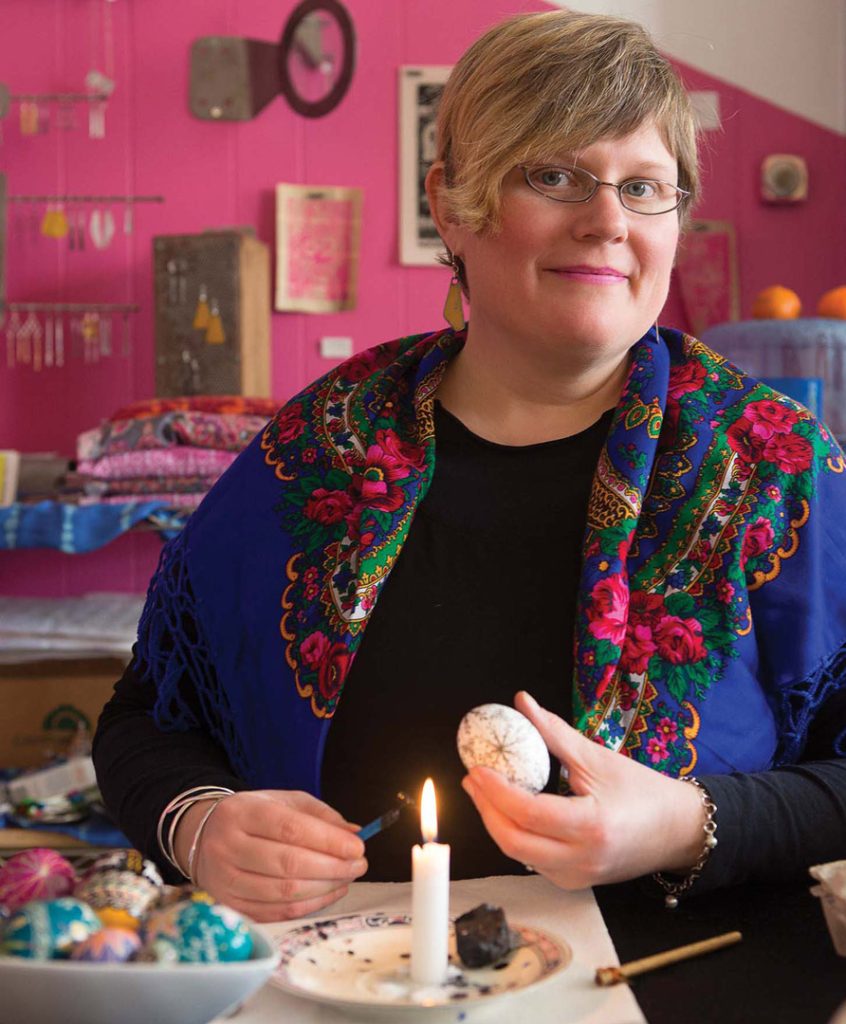 What are the basic steps in creating pysanky?
Kulish: I first contemplate what design I'd like to create. If the pysanka is a gift, I think about the person I'm giving it to and include symbols that are good wishes specifically for the recipient. Then I apply very light pencil lines as guides. Next, I apply wax to everything I'd like to remain the eggshell color. I do this by heating the kistka or stylus, which has a small metal funnel at the end of a handle. I heat the kistka in a candle flame and scoop in the beeswax. It's like I'm writing with a beeswax pen, and the ink is melted beeswax.
After I write everything I'd like to stay the shell color, I dip the egg in the first lightest color dye for a few minutes. I remove the egg from the dye, pat it dry with a paper towel, then apply wax to everything I want to remain, whatever color it is. I repeat this process for every color, from light to dark, until the background color. The darkest or background color does not need to be waxed over. At this stage, I melt off all the wax, holding the egg next to the candle and wiping the wax off bit by bit, and the design is revealed. I varnish the egg and then sell it in my studio or give it as a gift.
I work with empty eggs or use full eggs and empty them later. Traditionally pysanky are left to dry out, as a shell with no cracks is sterile and porous and will dry naturally (a crack allows bacteria in, which causes the inside to rot.) Traditionally pysanky are created before Easter and then given as gifts to friends and family on Easter Sunday.
A great variety of ornamental motifs are found on pysanky eggs. Can you touch on their symbolism and give a couple of examples?
Kulish: Trees are a wish for strength and good health. Wheat is for abundance – a good crop – whether literal or figurative. A line completely encircling the egg – like an eternity band- is a wish for long life.
Do colors also have significance?
Every color means something too. Blue, for example, stands for good health derived from life-giving air. Black is for remembrance, the darkest time before the dawn. Green is for renewal, freshness, hope, and spring.
Is there a success you have achieved as an artist that you're particularly proud of?
Kulish: Three of my pysanky are currently in the Pysanka Museum in Kolomyia, Ukraine. I am very honored to be included in this exhibit of North American Pysanky Artists. Also, I have recently raised over $21,000 to help Ukraine. I am selling "Stand With Ukraine" stickers that I designed, my own and community pysanky, and handmade items from Ukraine (100% of proceeds go to Ukraine, over $13,000 to date). In addition, I co-organized and co-hosted an online benefit concert that raised about $8,000.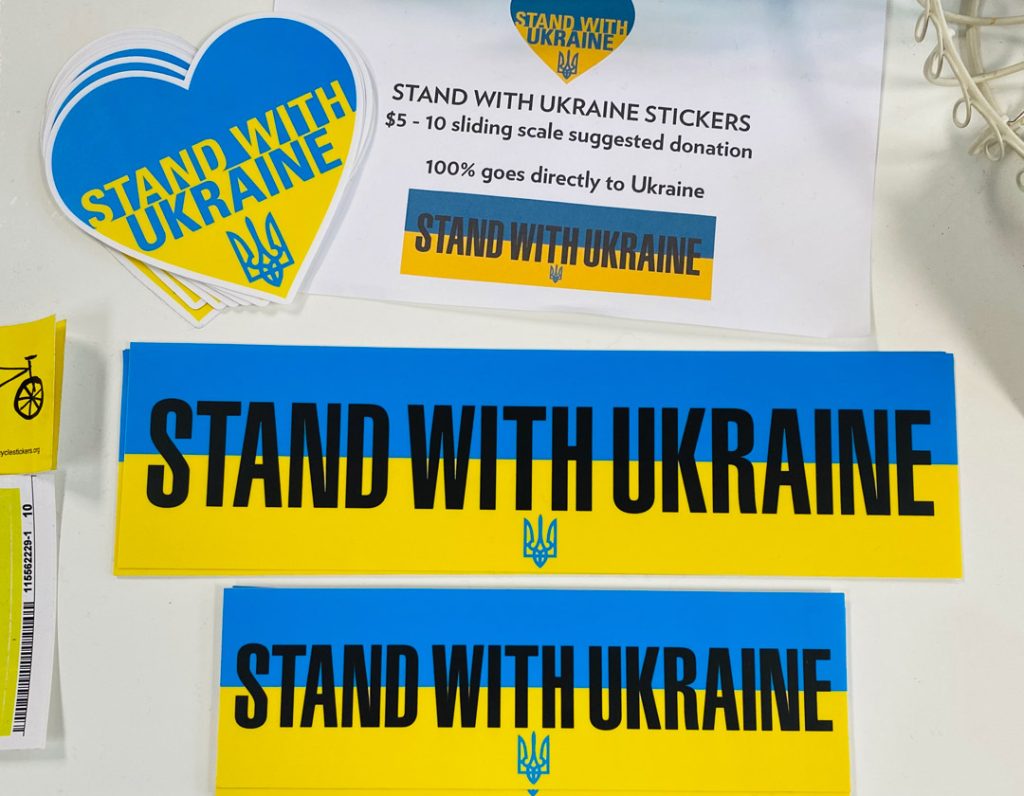 You've also been teaching pysanky workshops for over a decade. Tell us a little about your workshops and what students can expect to learn.
Kulish: Workshops are fun, and most people make 1 to 3 eggs. I like to keep the workshops small when possible so that people get a lot of individual attention. Participants learn the batik, or wax resist, pysanky making process and the symbols and history of these decorated eggs.
When do you offer classes, and how can we register?
Classes are in spring and winter. Since COVID, I've been doing small private group workshops. You can email, text, or call me.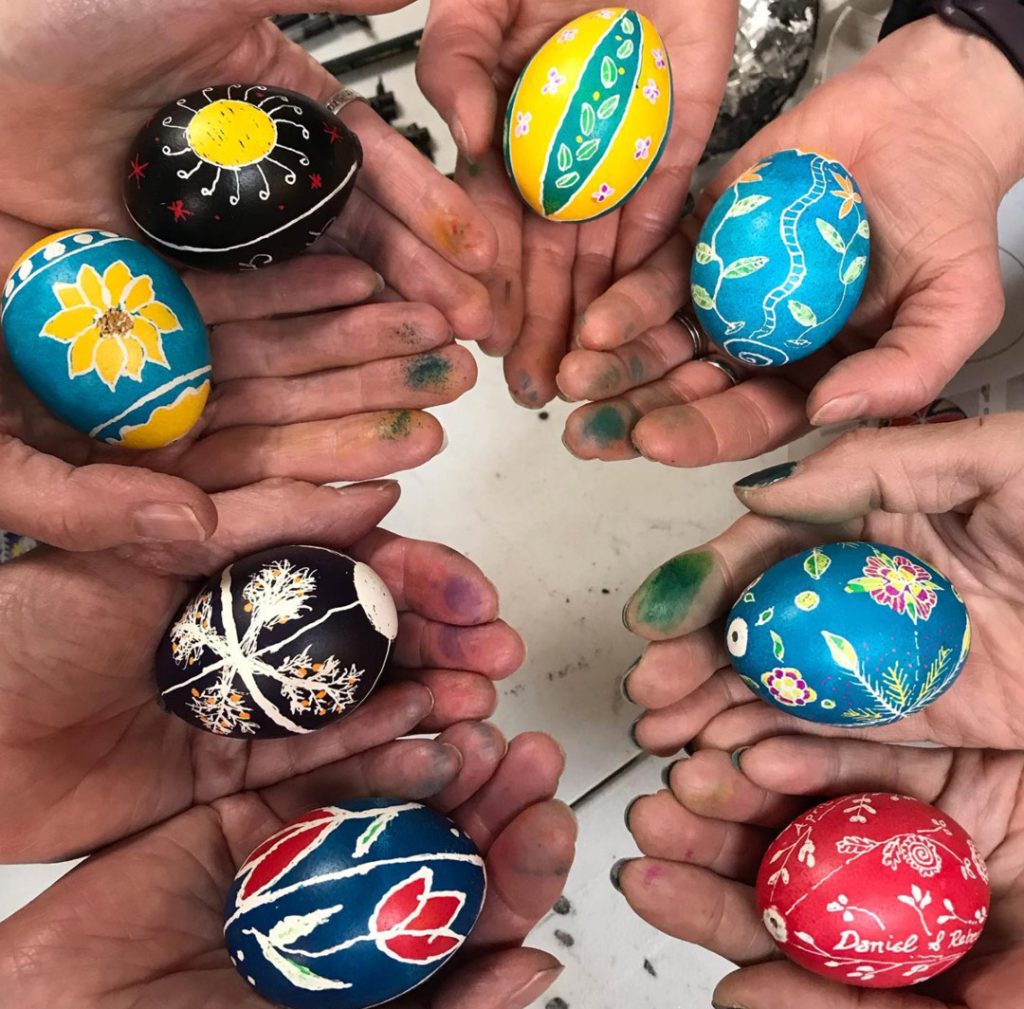 When you're not in the studio, what do you enjoy doing?
I enjoy nature walks with my husband, reading (mostly historical fiction), time with friends and family, cooking, my kitties, swimming, dancing, birdwatching, and British Film + TV.
---