Are you looking for a small event venue in Asheville? Make your celebration extra special with a unique experience at the Estes-Winn Antique Car Museum. Our historic attraction is ideal for small events (less than 50 people) such as:
Cocktail receptions
Employee Appreciation
Retirements
Small corporate events
Vow renewals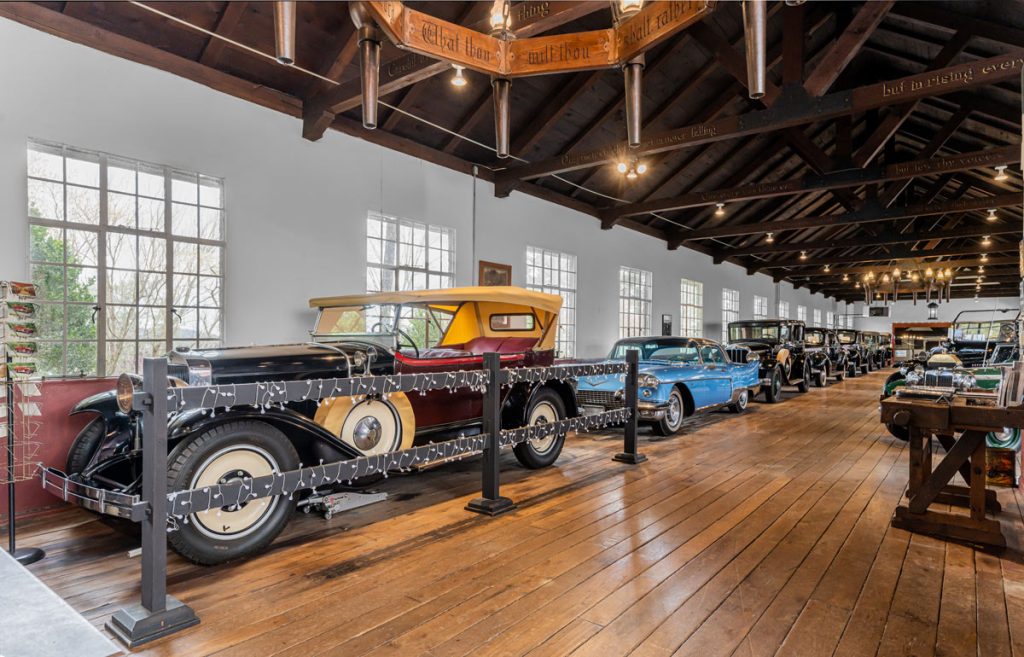 Dates & Hours of Events
Private events can be booked from April 1 to June 15 and September 1 to November 15. The museum does not have air conditioning (fans only), so we typically don't book events between June 16 and August 31. Events may only be held when the museum is not open to the general public. Regular museum hours are 10am – 5pm. Exceptions may be considered but must be approved by the Museum Manager. All events must be scheduled at least six weeks in advance.
Cost
The cost to rent the museum is $750 for up to 3 hours. Rates for longer events will be discussed and agreed upon before the occasion. Set-up and cleanup time will not be billed. Our occupancy rate is 49 people, which includes staff and guests. We do not provide tables, chairs, or catering services. A museum staff member must remain on-site at all times.
Set-Up and Breakdown
Set-up and breakdown for the event, including decorations and deliveries, must be approved in advance with the Museum Manager. The Renter and their vendors are responsible for all post-event clean-up. Any and all decorations must be removed by the renter upon completion of the event. Any cost incurred by the museum for the clean-up or removal of event-related activities or materials will be charged to the Renter.
Deposit
A non-refundable 20% deposit is due at the time of booking to reserve the date of the event. The remaining balance for the rental space is due on or before the date of the event.
Insurance/Liability
For private events, the museum requires a certificate of insurance (COI) naming "Biltmore
Industries, Inc./BPG Family Holdings, Inc./Estes Winn Blomberg Foundation, Inc." as additional
insured for up to $1,000,000 in general liability for the duration of the event. We will need a copy of your COI. Please include a waiver of subrogation in favor of Biltmore Industries, Inc. If alcohol will be served, make sure coverage includes host liquor liability for $1,000,000.
Food & Beverage
We do not provide food or beverages. Please note that the museum does not have a kitchen or an area reserved to prepare food. An insured caterer is strongly recommended for all food service. A ServSafe manager/bartender is required for events where alcoholic beverages are served. Vendor suggestions are listed at the bottom of this page.
Smoking
Smoking and vaping are not permitted inside the museum.
Prohibited Items
Prohibited items (inside and outside of the museum) include illegal substances, pyrotechnics, guns or dangerous weapons, loose glitter and confetti, candles (flameless and LED are ok), birdseed, smoke/fog machines, and sparklers.
Tables & Chairs
The museum has two seating areas that renters are welcome to use, but we do not provide tables or chairs for events. Vendor suggestions are listed at the bottom of this page.
Trash
Except for the bathrooms, the museum is not responsible for providing trash receptacles, trash bags, or transporting trash to the dumpster. We have a dumpster on-site that you or your catering staff are welcome to use.
Conduct
The museum reserves the right to conclude any event at any time due to inappropriate or undesirable behavior by the event host or guests. Such closure will result in the Renter's forfeiture of all monies paid to the museum.
Parking
We have a parking lot with 25 spaces (including 1 handicap-accessible parking space) adjacent to the car museum. In addition to that, we have a small gravel lot behind the museum that can accommodate 4 to 5 cars or work vans (ideal for catering staff). Since parking is relatively limited, we always encourage carpooling or ride shares. Visitor drop-off and pickup is permitted at the museum's main entrance. If your event occurs on a Monday or Tuesday night, we can offer additional parking in our on-site restaurant's lot.
Museum Accessibility
Our museum is listed on the National Register of Historic Places and has largely remained unaltered. There are two steps at the entrance of our building, but we can bring out a portable ramp for wheelchair access. Unfortunately, there are no handicap-accessible restrooms in the museum, and the lower level of the museum is not wheelchair accessible. If you have any accessibility concerns, please contact us at info@grovewood.com.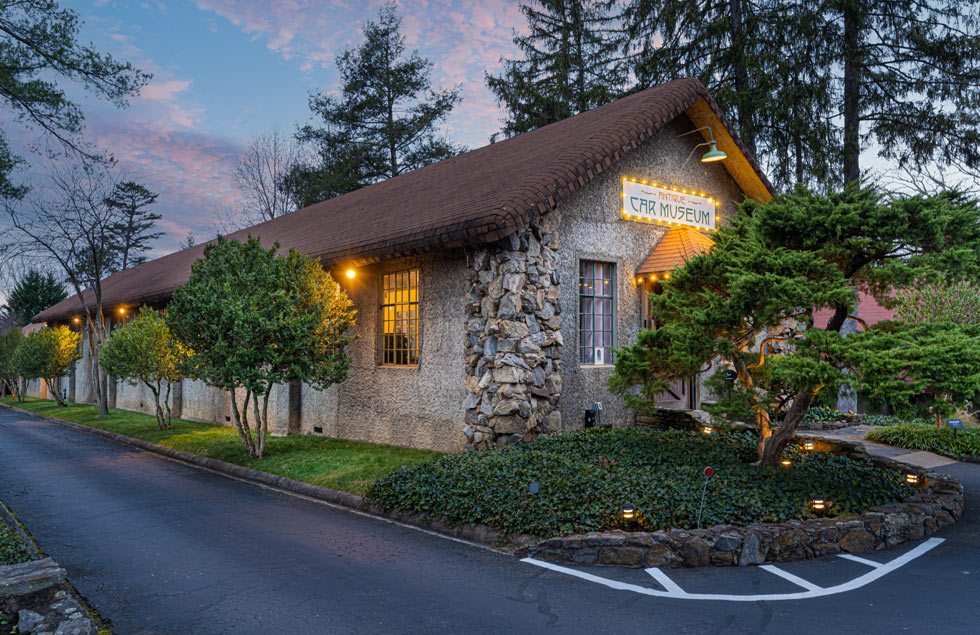 Vendor Recommendations
While you may use a caterer or rental company of your choice, we offer some recommendations below. We are in no way affiliated with these vendors, so please conduct due diligence.
BOOK NOW
Email us for more information about our small event venue in Asheville and to reserve your date: info@grovewood.com.