1923 REO Touring Car – Backstory Discovered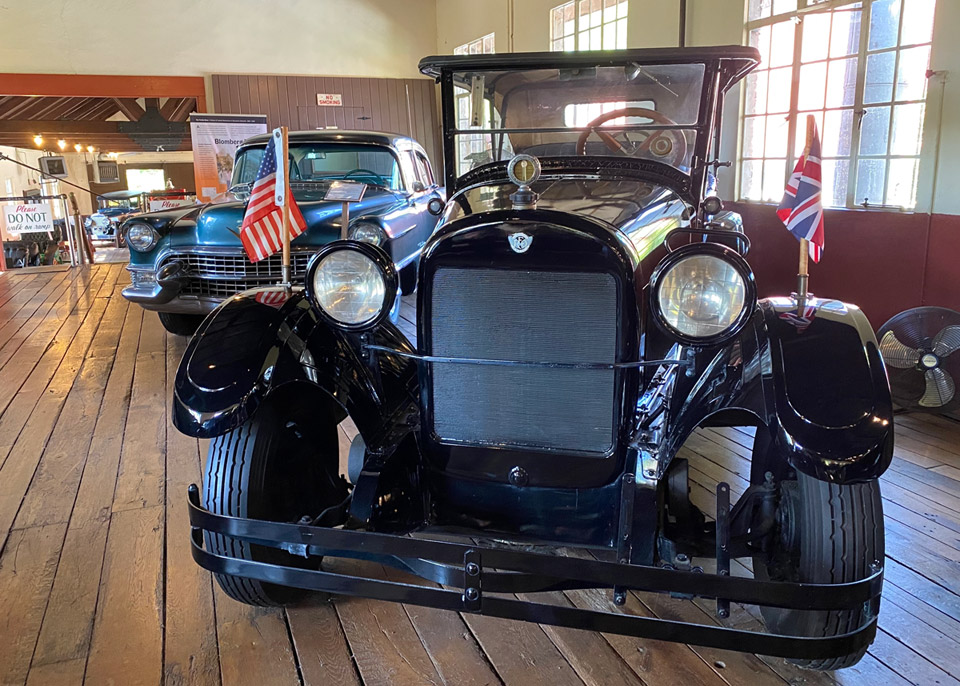 Something exciting happened to us a few weeks ago. A gentleman named Jim Rumbough reached out to us and said he believed that the 1923 REO on display in our antique car museum originally belonged to his grandfather, John Baker Rumbough. Since we weren't left with much of a backstory on this car – one of the most interesting vehicles in our collection – we were intrigued. After reading Jim's convincing email (shared below) and digging through our archives, sure enough, we found his grandfather's name on a copy of the certificate of title for the REO.
Jim was kind enough to share with us some old family photos and a 1934 newspaper clipping from the Asheville Citizen-Times when his grandfather ran for sheriff (he lost in the primary election). According to the newspaper article, John was one of the early automobile racing enthusiasts in Asheville. "In 1914, he was master mechanic of the Stutz automobile racing team and the following year drove in the 500-mile Indianapolis speedway classic."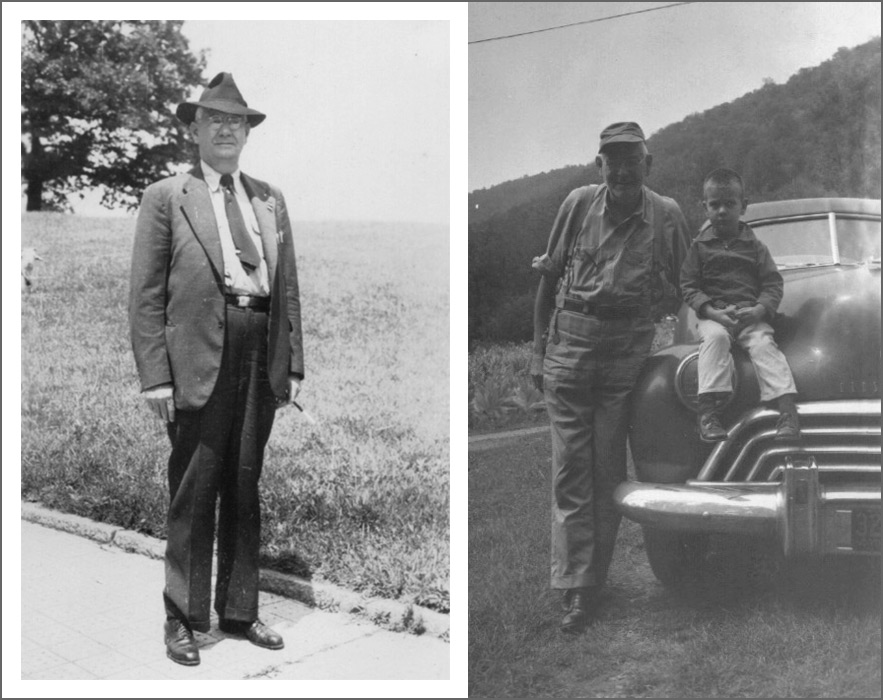 John was an Asheville native. He graduated from New York Nautical College and later attended George Washington University, where he studied chemistry, advanced physics, and ballistics. He went on to have an accomplished career and returned to the Asheville area in 1922, eventually opening a shop specializing in repairs to foreign guns. John passed away in September 1956.
1923 REO Touring Car Backstory
Told by Jim Rumbough
Many years ago, my grandfather, John Rumbough, traded in his 1923 REO at Harry's Cadillac in Asheville (now Harry's On The Hill) and purchased a GMC truck. For years, my father used to tell me that Grandfather's car was on display at Harry's. So when I discovered that Harry Blomberg had donated all the cars to this museum, I had to come by for a visit. This is indeed my grandfather's car!
Some family stories bear this out …
1. The Ford wheels. During World War II, my grandfather could not find tires for the REO, due to the fact that it was an old car and rubber was rationed. He converted the car to use smaller Ford Model A wheels and tires which were available during the war. This was my grandfather's only car, so he had to do something. To keep the fender line reasonable, he added vertical pieces to the front and rear fenders to maintain the aesthetics of the car.
2. When my father was a boy, he and his father were running some errands. When they arrived at their destination, my grandfather told Daddy to wait in the car. My dad, being a fidgety kid, leaned back in the front seat and put his feet on the dashboard. He apparently pushed the lens on one of the instruments a little too hard and broke it. When my grandfather returned, he saw the broken glass and asked, "Did you do that?" My dad confessed and said yes. Much to my dad's surprise, a good spanking didn't follow. My grandfather just told him to be more careful. These days, we might call that a "bonding moment," but at the time, my dad thought he was the luckiest kid in the world. Take a walk into the museum and have a look. The broken lens is still there.
3. My grandfather was very patriotic. He would drive the car in parades, and the flag stanchions on the front fenders are testimony to this.
4. The shift knob. It's a cue ball and is engraved with an "R" (for Rumbough).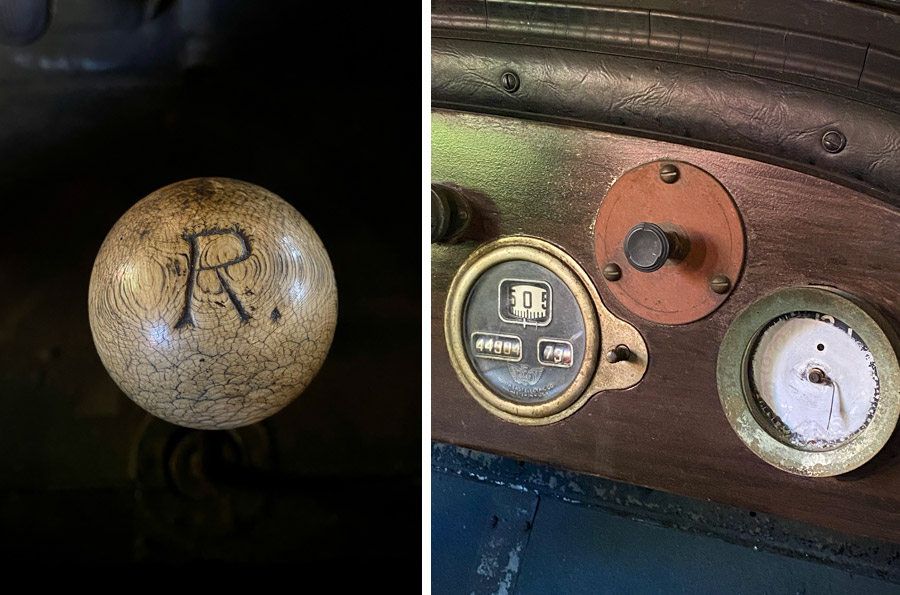 I am including a couple of photos. The photo below is from 1932. The Rumboughs used to spend some time in Palm Beach and drive down from Asheville. The photo was taken as they were leaving Palm Beach to return to Asheville. The little head in the driver's seat is my father.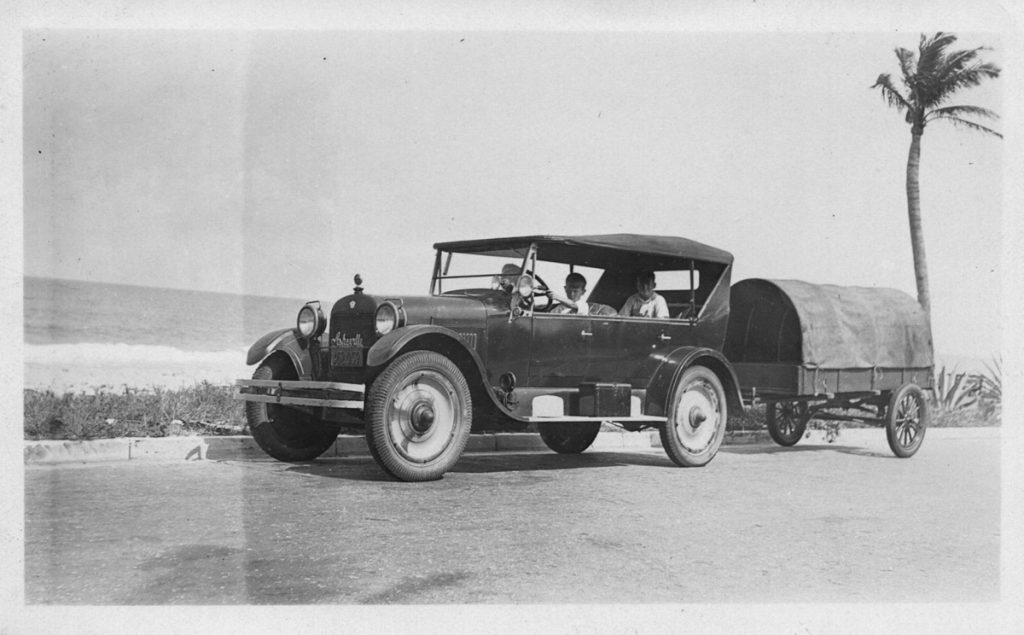 The other photo is from 1933 and was taken at the top of Spivey Mountain in Asheville. The woman in the passenger seat is my grandmother.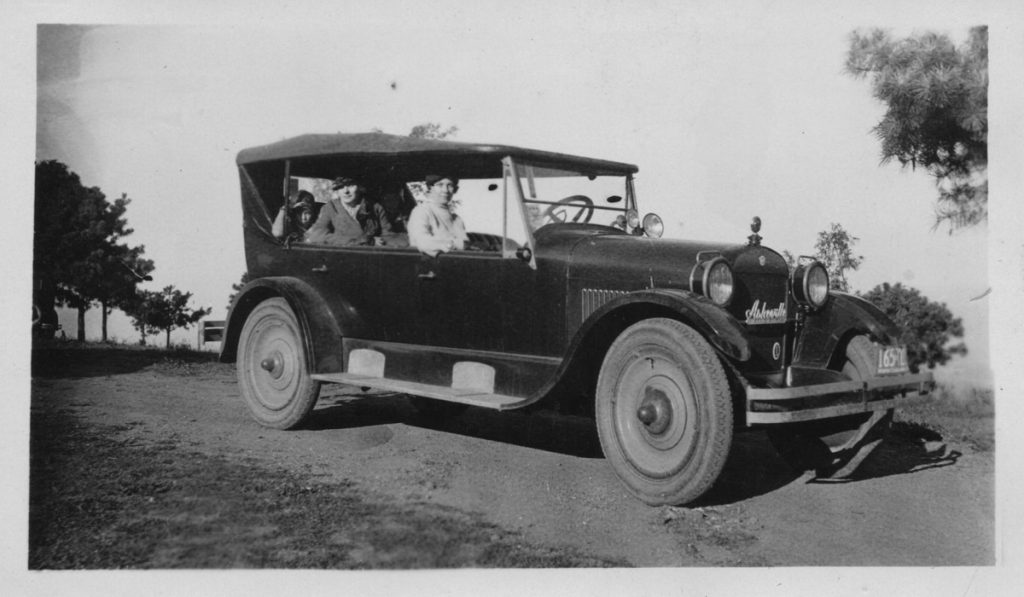 I thank Grovewood for taking such good care of these cars. Every one of them has a story. I am delighted to be able to share the history of this car with you. It only had two owners in nearly 100 years, my grandfather and Harry Blomberg.
All vintage photographs were provided by and belong to the Rumbough family.
---
The Estes-Winn Antique Car Museum at Grovewood Village is open April – December, Monday – Sunday from 10am – 5pm. Admission to the museum is free, but donations of any amount are greatly appreciated and help us to maintain the collection. Free parking is available on-site.
Questions? Feel free to email us at info@grovewood.com.